10 Steps To Buying A New Car
Step 1: Know Your Shopping Style
Remember, as the buyer, you should be the one in control throughout the entire process, and you should be making many choices along the way before you even step into a dealership. With so much reliable information available, even if you already have a strong preference about the vehicle you want, if you take some time to do some research and be open-minded you may be pleasantly surprised by the outcome.
Here's one way to start: Take a look at the following list of different types of shoppers and decide which one best describes you.
Value Shopper
You want a good price, but you are willing to pay for quality.
Short Cut: Check out J.D. Power quality ratings on the vehicles you are interested in.
Image Shopper
You are concerned with what your vehicle says about you. Does it project a desirable image?
Short Cut: Review the top most researched vehicles in the category you're shopping.
Methodical Shopper
You enjoy the chase as much as the conquest, and cover every base, becoming somewhat of a new-car expert.
Short Cut: Go through the entire "10 Steps to Buying a New Car" process.
Safety-Conscious Shopper
You want a safe and reliable vehicle you can trust to keep you and your family safe on the road.
Short Cut: Read about the National Highway Traffic Safety Administration's new Government 5-Star Safety ratings system
Step 2: Narrow Down Your Shopping List
Let Your New Car Find You
With over hundreds of new makes and models available, how do you narrow down your list? To some extent, your lifestyle can help. Imagine the activities you'll experience in your new vehicle. If you have small children, you need something that's roomy enough for everything you have to take with you and is also strong on safety features. Or perhaps you care more about performance or style. Or maybe you have a job in sales and need something suitable for taking clients to lunch. If it has to haul or tow something, the choices are pretty obvious.
When considering the purchase of a car, everything counts: Number of seats, number of doors, size, performance, color, style, comfort and sometimes even towing capacity. The key is to narrow your search by creating a short list of choices before ever stepping into a dealership. Where to start? Well, with the convenience of the internet and great sites like kbb.com, easy-to-use decision guides can help you narrow your list of candidates in a short time.
Side-by-Side Comparisons
Another tool that will help you narrow your search is the Side-By-Side Comparison, which allows you to compare specifications and see which features are standard or optional on each new car. This is an especially helpful exercise when you are down to just a few vehicles and want to compare finer points or features.
These easy-to-use internet tools put you in a position to effortlessly analyze your choices before making your final decision. Avoid making the common mistake of impulse buying. A minor delay in automotive gratification is worth the time spent, especially when receiving that information from a trusted source. Kelley Blue Book takes pride in serving you with the information you need, when you need it the most.
Step 3: Calculate What You Can Afford
Let Your Budget Do the Driving
When considering a new vehicle purchase, the lines of affordability can easily become blurred due to the varied financing options available. A wise buyer shops for a new vehicle based upon what he or she can truly afford. Keep an open mind and you could be pleasantly surprised by the list of vehicles within your price range.
Affordability is a multi-faceted issue because the car-buying process can consist of several financial considerations. It will help if you determine, accurately and honestly, what your current car is worth, how much of a down payment you can make and a reasonable amount you can handle for monthly payments. Some careful thought and cold, hard honesty will pay big benefits later. Far too many buyers shop for cars that are beyond their budgets, want small down payments, drastically misjudge their capabilities regarding monthly payments and then want to reduce the monthly payments by stretching out the lengths of the loans, all of which leads to trouble in the future.
The biggest issue for most buyers is the price of the new car. Fortunately, determining the MSRP is easy, and figuring at least a range for a realistic transaction price is also not terribly difficult.
Calculating Affordability
The new-car buying process is greatly simplified when you discover the bottom-line vehicle price you can afford ahead of time.
This is true whether you lease or buy. Here's an example of the kinds of details that may be involved in a typical new-car deal:
"The trade-in value of the vehicle I currently own is $10,400."

"I owe $2,200 on it." Meaning, you have about $8,200 equity in the car.

"I've got $2,000 in savings I want to put down." Meaning, with the trade, you will be able to give the dealer a total of about $10,200.

"I want to keep my payments under $400 per month for 60 months." That monthly payment schedule will finance, roughly, about $20,000, meaning the total price of the whole package can be the $20,000 plus the $10,200 you have handed the dealer, or $30,200. That means a new car in the price range of roughly $27,000, because there will be, generally, about 10 percent added in taxes, license, fees and so forth.

Furthermore, it means the whole deal, by the time you have paid it off in five years, will have cost you about $34,200 ($400 times 60 months is $24,000, plus the $10,200 you gave the dealer in the form of your trade and the $2,000 down.
This means the same as:
"I can afford to buy a $27,000 vehicle." And it's going to cost you $34,200 and five years to do it.
There are many online tools available to help you determine affordability.
Trade In or Sell Yourself
If your car is in extremely good condition and you have impeccable service records, it may be well worth your while to sell it on your own. On the other hand, if your car needs a lot of work, you may end up putting more money into it than you can recover -- so take a realistic look before you decide.
For trade-in, get the Blue Book® Trade-in Trade-in Value of your current vehicle. This value -- based upon the condition of your vehicle -- is an accurate representation of what you may expect to be offered when trading in your vehicle at a dealership. If you decide to trade in your vehicle, keep in mind the dealer must assume the responsibility for preparing your trade-in for resale. This process usually includes mechanical and smog inspections as well as repairs to make the car ready to sell to the next owner. This will cost the dealer money, and the dealer will figure this into the deal.
If you would prefer to sell your vehicle to a private party, check out the Blue Book® Private Party value first. This is the value you can expect to get when selling the vehicle to another consumer. In this case, you are solely responsible for preparing your vehicle for sale as well as setting and negotiating a fair price. Read more on trading in or selling yourself in Step 8.
Loan Amount
To discover the amount you need to borrow, calculate the monthly payment you can afford via our payment calculator. This tool factors the interest rate and the term of your loan. Now add your available cash with the loan amount and you'll begin to arrive at a price that works for you. Also, check for any customer or dealer incentives that may be available on your new vehicle, adding to your available cash amount. Remember, you still need to add state tax, license and fees, which vary by state and can be obtained through your local DMV.
New Car Pricing
The best news is that new car pricing is now easily accessible online. Kelley Blue Book's kbb.com features three types of new car pricing:
Invoice Price
The new car pricing report details the invoice price on each trim level. Dealer Invoice is the dealer's cost for the vehicle only and doesn't include any of the dealer's costs for advertising, selling, preparing, displaying or financing the vehicle.
MSRP Price
The MSRP is the Manufacturer's Suggested Retail Price, also known as the "sticker price." This price is required by law to be posted on every new vehicle and is usually -- but not always -- the highest market price. The exceptions occur when certain vehicles are in high demand or have low availability.
Fair Purchase Price Range
Also, check out an available price called Fair Purchase Price. Updated weekly, the experts at Kelley Blue Book have developed the most accurate pricing guidelines for new-car buyers based on purchase data collected across the country.
Safety
There are two aspects of safety. One is called "passive safety," which concerns itself primarily with protection of the occupants in the event of a crash. For the most part, passive safety is the job of the car, although the occupants have the responsibility to use the seat belts. Features associated with passive safety include airbags, energy-absorbing crumple zones, seat-belt pretensioners, head-protection devices and the like. The other aspect is called "active safety," which concerns itself primarily with not having the crash in the first place. For the most part, active safety is the job of the driver, but certain important features on the car can help the driver avoid a crash. These features include such things as antilock brakes, traction control and stability control. For driving in bad weather or on slippery surfaces, all-wheel drive or four-wheel drive can also be considered as having a positive effect on active safety.
The relative importance of these features may vary based upon your driving style and where you drive. You can also check the National Highway Traffic Safety Administration's (NHTSA) Government 5-Star Safety ratings. These ratings will give you an idea of the relative performance levels of various cars and trucks in crashes, and an indication of how your prospective vehicle's safety features compare to those of others. In 2010, NHTSA will release updated, more rigorous safety standards and in 2011, NHTSA will begin promoting crash avoidance technologies as standard features as part of the new Government 5-Star Safety ratings. You can learn more about crash avoidance technologies on NHTSA's website.
Quality
An online analysis of how your favorite vehicles rate in quality can be a true eye-opener. Years ago, quality referred only to the absence of defects in a car. Now, research organizations, such as J.D. Power, have expanded their research analysis to cover positive aspects of new cars.
This valuable information is provided in the form of J.D. Power Circle Ratings. On the absence-of-defects side, sometimes described as "things gone wrong," you can find out how the car rates in mechanical, feature and accessory quality and the quality of the body and interior. For positive aspects of quality, known as "things gone right," you'll find ratings for performance, creature comforts and style. There's also a score for the dealership experience based on the J. D. Power "Customer Service Index."
Expert Opinions
Another way to gain confidence in your purchase is to spend some time reading what the experts have to say about your new vehicle. Reading the opinion of experts before the test drive serves many purposes: You can discover the strengths of the car's performance, see how the vehicle compares in its class and learn how the vehicle rides and performs on longer trips, or what it's like to drive around town.
Owner Opinions
The opinion of owners is also a valuable resource. With this tool you can discover how owners rate their new cars. A visit to the consumer review section of each vehicle pricing report on kbb.com will give you access to personal ratings and comments. After you purchase your car, you can submit a review of your own to help others make informed decisions.
Side-By-Side Comparisons
Finally, don't forget to run a side-by-side comparison of the vehicles you are considering and you will get another level of insight. Seeing horsepower, mileage, seating capacity, headroom, legroom and other specifications side-by-side helps you quickly identify which vehicles meet your specific needs.
Step 4: Do Your Research Online
What makes a new car the best new car for you?
With the incredible amount of data available, what specifically should you research? There are pricing and equipment options to consider, but what else should be of concern? Other important facts to discover include information about safety, quality and five-year cost of ownership. These ratings can help you achieve some needed peace-of-mind. Then, follow up by researching owner opinions and expert reviews.
Step 5: Know When the Price is Right
Once you know the car you want and select the model, options and color, it's time to get serious about price. One key to success in negotiating for a new vehicle is in collecting as much information as possible before making the deal.
Today's savvy car buyer has the internet to thank for helping to take some of the mystery out of vehicle pricing. The online community has provided plenty of fast, free and factual information. These values are provided in new car pricing, and include invoice, MSRP and Fair Purchase Price.
Invoice Price
Probably the most helpful thing about obtaining the dealer's invoice price is to help determine the lowest level a dealer can go and still make a gross profit on the sale. Dealer invoice is the dealer's cost for the vehicle only and doesn't include any of the dealer's costs for advertising, selling, preparing, displaying or financing the vehicle.
When all is said and done, knowing the dealer invoice price can be an extremely helpful bargaining tool. However, it does not always tell the entire story as the average sticker price over invoice cost on most vehicles is less than 6 percent. Compare this to any other industry and you'll find it to be quite low. The truth is, contrary to popular mythology, dealers actually don't make a lot of money on new cars, which is why they have less room to negotiate on prices of new cars than those of used cars.
MSRP
The MSRP (Manufacturer's Suggested Retail Price) is actually set by the manufacturer and means just what it implies -- a "suggested" price. By law, this price is displayed on every vehicle sold in America.
So who pays the MSRP? In some instances where demand is higher than supply, customers actually have been known to pay above the MRSP. For instance, during their respective launches, the Lexus RX 300, Chrysler PT Cruiser and Honda Odyssey demanded prices well above MSRP.
Unlike most other business categories, the automotive industry gives the retailers the ability to offer the customer a discount while still needing to make a profit.
Fair Purchase Price
Updated weekly, the Fair Purchase Price is the industry's most reliable new vehicle pricing tool. The price you receive online specifically reflects the price consumers are paying for new vehicles on a current market basis. Down to the specific make and model, Fair Purchase Price pricing reports offer a new car's typical selling price, its typical range of selling prices and the market conditions affecting those sales.
The Fair Purchase Price is not a number influenced by dealers or manufacturers -- it is actual transaction data representing a range of what people actually paid for specific vehicles. This pricing knowledge will benefit you greatly as you decide what you are comfortable paying for your next car.
Optional Equipment
The price of your next car will depend greatly upon the options you desire. Trends in the industry have moved toward car manufacturers putting packages together rather than simply including options as separate add-ons. This makes pricing those vehicles much easier. For example, the popular Honda Civic Sedan comes in three separate versions, the DX, LX and EX. A quick check on the new car pricing report for the Honda Civic demonstrates that the standard options simply increase with each model -- as does the price -- and the company offers very few non-standard options as a result.
To remain competitive with the high-volume best sellers, many manufacturers offer packages with groups of options, such as power windows, alloy wheels and CD players, while keeping the total price lower than it might be otherwise. This can be a pleasant surprise when you're comparing similar vehicles from different manufacturers side-by-side. The most efficient way to discover how optional equipment will affect the bottom line is to build a car online. This handy tool will automatically add the cost of each option available on your vehicle and give you a new total reflecting the additional cost factors.
The Market Drives the Deal
One thing you can count on is that car prices change as popularity, supply and other factors change. In other words, if you are buying a popular car in short supply, when it first comes to market, you can expect to pay more.
Other people would never dream of paying a premium for anything. For the true bargain-hunter, here are some helpful car-buying tips that might position you to get the deal you want:
Step 6: Leasing vs. Buying
Let Your New Car Find You
With rising car prices, creative financing has come to the forefront, tempting us with promises of zero or minimal down payments and low monthly payments. In all finance scenarios, however, some sort of fee is attached -- the question is, which financial approach best meets your needs?
Leasing
Lower monthly payments and less money down can make leasing seem like a great deal. The truth is that leasing offers a lot of convenience, but only if you are willing to put up with restrictions, which can include lower mileage limits -- typically only 12,000 miles per year, sometimes 10,000 miles per year -- diligent upkeep and care of the vehicle and, in some cases, penalties for early termination.
After a lease deal is offered to you, be sure to pay close attention to the negotiated purchase price of the vehicle and any additional fees outside the lease rate, and never sign a lease contract unless the residual value or optional purchase price at the end of the lease is clearly shown.
You are a good candidate for leasing if you prefer to have a new car every few years, put limited miles on your car and/or can write off your car lease as a business expense. A quick way to find out if leasing is right for you is to take our short quiz to determine your "lease friendliness."
If you are using a lease simply to reduce the amount of your monthly payment, it may very well be that you are considering a car that, if you were to purchase it, would be outside your realistic capability to make the payments. If that's the case, you should give serious thought to selecting a less-expensive vehicle. If you abuse the opportunity the lease offers, you will pay for it in the future.
Buying
Before considering the purchase of a new car, it is wise to establish the amount you are willing to spend, or to calculate the monthly loan payment. Don't forget that, after negotiating the final price of the car, you will need to allow some extra cash to cover tax, title and in some states, registration.
Next up, arrange your financing. You may choose to obtain a loan with the dealership or go with the manufacturer's financing. But there are options. You can obtain online financing. You may be able to arrange for pre-approval of a loan from your credit union. When you do some of these things, you may not have a specific vehicle in mind, just a general price range, and when you make the deal you write the dealership a check for the total amount. Some institutions will give you a lower interest rate if you have direct deposit and an electronic loan payment, so be sure to ask about it. Visit our financing section and explore a loan with LightStream, an online lending division of SunTrust Bank. Read more about financing in Step 7.
Remember to check for incentives on your vehicle of choice. From zero percent financing to customer-cash rebates, manufacturers are constantly competing for your business by making their vehicles and financing more affordable.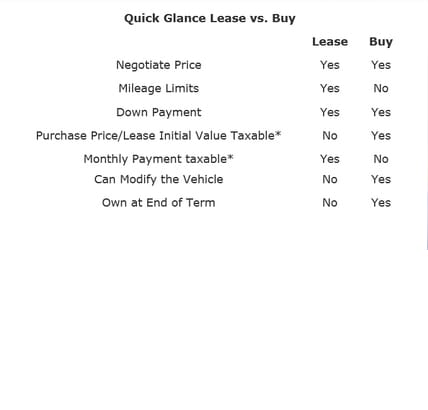 Step 7: Find Financing, Warranties and Insurance
Financing Your Vehicle
With several manufacturers offering low or even zero-percent financing deals, you may have the opportunity to save even more money at the dealership. Remember most do however require good or excellent credit.
While Herb Chambers works with many banks and is very flexible a credit rating that is far below-par indicates a person who has had difficulty making payments in the past and that increased risk to the lender is reflected in a somewhat higher interest rate to the borrower.
Warranties
Chances are, an extended warranty or service contract will be offered to you when buying your next car. An extended service contract from a reputable dealer is usually your safest bet. These contracts encompass a wide range of repairs and services. The repairs can be done at any authorized dealership and tend to be approved without a hitch. You won't pay a penny for approved repairs unless your contract includes a deductible.
Insurance Rates
The truth is, automobile insurance is a necessity. Several states require all vehicle owners to have insurance and be able to show proof of it.
The type of vehicle you choose and the history of your driving record can have a profound effect on the cost of insurance. Typically, sports cars, high-performance cars, turbocharged or supercharged vehicles, those with larger engines and vehicles with four-wheel drive often result in higher insurance rates. Also, vehicles with histories of being stolen can demand a premium.
These additional expenses may be unavoidable, but they can also be negotiable and should be reviewed carefully before making your next purchase. As a result, you could save yourself a lot of money and aggravation in the years ahead.
Step 8: Sell or Trade Your Current Vehicle
Like most do-it-yourself projects, selling your own vehicle to a private party can be cost-effective. In contrast, trading in your current vehicle at the dealership is certainly much easier.
Before buying your next vehicle, consider the pros and cons of what to do with your current vehicle and make an informed choice.
Trading - Pros & Cons
Trading your vehicle at the dealership may be quick and easy but it may not necessarily always be painless. The upside of trading is that the dealer does all the paperwork. After settling on an acceptable price, all you have to do is sign the vehicle over and be done with it. The price you pay for the convenience of being relieved of your vehicle will likely be less money for you than if you sold it yourself. Some people expect the dealer to give the full retail value of the vehicle and are often disappointed by the offers presented to them. Such people are being unrealistic. To avoid any surprises, be sure to get the Blue Book® Trade-in value of your vehicle before you go to the dealership.
This number -- based on the condition of your vehicle -- is a more accurate representation of what you may expect to be offered. Keep in mind that, if the dealer is going to re-sell the car then it must assume the responsibility for preparing it for that eventual resale. This process usually includes mechanical and smog inspections, repairs to make the car ready for sale and providing some sort of warranty on the vehicle for the new owner. The dealer might also sell the car to a wholesaler, or at an auction, where dealers buy and sell cars from and to each other in order to balance their used-vehicle inventories and make them most appropriate for their respective dealerships.
For example, if you trade-in an old, worn-out pickup truck to a high-end import luxury-car dealership, that dealership is not going to put that truck into its used-vehicle inventory. So that truck goes to the auction.
Trading can also help if you owe more on the loan than the car is worth. This is known as being "upside-down." The dealer can roll the remaining balance of your current vehicle's loan into the new loan, thus allowing you to trade in your vehicle without having to pay additional cash. While this is not advisable -- because it inflates the loan far beyond the new vehicle's actual value -- it is an option for a buyer who wants to get out of the current vehicle. And it will cost that buyer a lot of money.
Selling - Pros & Cons
Selling your car on your own can get you more dollars, but requires patience and good judgment. First, you will need to determine a fair asking price. Blue Book® Private Party value will give you a price, based on the vehicle's condition, for you to calculate the value of your vehicle in a consumer-to-consumer transaction. Be aware, you may have to absorb the cost of making the car presentable and passing any required state inspections or emissions tests. And remember, first impressions are important, so always keep the car clean, presentable and ready to be shown while it's available for sale. You must also figure what your time is worth, because you will need to be available to answer questions and make appointments for people to see the vehicle and take it for test drives.
Another downside to selling your car yourself is that you may be contacted by some unsavory individuals, or people with whom you just don't feel comfortable. You need to have good instincts about people and have strong negotiation skills. If you do decide to sell your car yourself, be sure to put everything in writing and request payment in the form of a cashier's check. Personal checks can bounce and cash in large quantities is not wise to carry on your person.
Generally speaking, points which will enhance the notion of selling the car yourself include: Is it a vehicle that's normally in strong demand anyway? Is it unmodified, thus appealing to the greatest number of buyers who, generally, don't want someone else's modifications? Is it in really good condition? Is your pricing reasonable?
If you decide to sell your car yourself, there are several options available to advertise your vehicle to potential buyers such s Craigslist, Ebay Motors, or local newspapers.
Points to Consider When Selling Your Car
Make your car presentable. At the very least, a good wash and wax of the exterior and complete vacuuming of the interior is in order. If you really want to impress potential buyers, take the car to a professional detailer and have the interior, exterior and engine thoroughly cleaned.


The Used Vehicle Warranty Law: You, the seller, are required by law to inform buyers about any known defects that impair the safety or substantially impair the use of the vehicle. This law applies to any vehicle being sold for use on the road, no matter its age or condition. If the buyer can prove a defect exists and that you, the seller, didn't disclose it, the buyer can cancel the sale and request a refund.


The Lemon Aid Law: You are required to make sure the vehicle you are selling can pass state inspection. If the vehicle fails inspection within the first 7 days after the sale, the buyer can return it to you and request a refund.


Try to have all service records complete and neatly arranged for your prospective buyer. This will instill confidence that the car has been well maintained.


Be honest. Disclose any serious problems or repairs that might be needed to bring the vehicle to correct condition.


Don't be offended if someone wants to have the car checked out by a professional -- in fact, take the vehicle to a shop before you start price negotiations.


Set your asking price a few hundred dollars above what you really want. This allows some room to negotiate. And remember, just because you might think you "need" a certain amount of money from the sale is no reason at all to expect someone else to pay that amount. A car is worth only what someone will pay for it, on that day, at that time.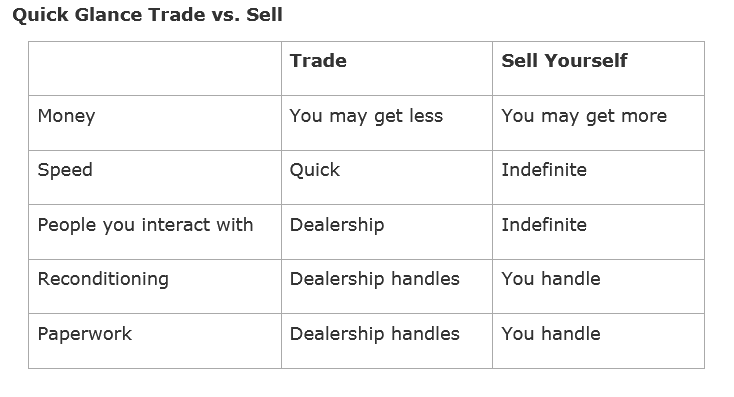 Step 9: Consider Your Buying Options
Moving from your seat in front of the computer screen to the seat behind the wheel of your next new car is the most exciting part of the buying experience. By this time you've narrowed your choices down to a few vehicles that are right for you and have set goals for price, monthly payment, trade-in and finance options. You can now get ready to visit your preferred Herb Chambers location with confidence.
Moving from your seat in front of the computer screen to the seat behind the wheel of your next new car is the most exciting part of the buying experience. By this time you've narrowed your choices down to a few vehicles that are right for you and have set goals for price, monthly payment, trade-in and finance options. You can now get ready to visit your preferred Herb Chambers location with confidence.
Direct Buying Sites
If you prefer to purchase your next vehicle from a direct buying site, these online companies will work with you as brokers and complete the entire transaction with the dealer -- all the way to delivering the car to your front door.
Dealer-Referral Buying Sites
If you want to do business with internet-friendly dealerships, a dealer referral site is a smart way to go. This type of site works with dealers who are committed to their internet-based customers, know how to respond quickly and are willing to negotiate via email. The first thing you'll be asked to do is fill out a Purchase Request, which implies that you are seriously considering the purchase of a particular vehicle. This does not in any way obligate you to purchase, but is a tool that gives the dealer enough information to give you a good quote in return. Within 24 hours of filling out your request, a dealer should email you with the quote you need or contact you by phone.
Manufacturer's Sites
You can't buy direct from a manufacturer, but if you visit the manufacturer's site it will typically have a unique dealer referral service that will automatically put you in contact with dealers in your area. For your convenience, most manufacturers have links to their web sites via kbb.com's Free Price Quote tool. Some manufacturers have loyalty programs and other special promotional offers to customers who register directly through their sites as well. The incentive section of kbb.com gives you the latest manufacturer's incentives, including low finance rates, zero-percent financing and customer cash.
Step 10: Get the Most Out of Your Test Drive
So you've done your online research and located a dealer. Now you are ready to experience the vehicle first-hand. If you're a serious shopper, the dealer will work closely with you and should give full access to the vehicle for inspection and test driving. If you are planning to test drive a few different vehicles, let the salesperson know that you are a serious shopper but are still gathering information to make your final decision. A good salesperson will be very knowledgeable about the vehicle's finer points and make you aware of additional features you didn't notice while doing your online research.
Kick the Tires
It really is important to get up-close and personal with your prospective new vehicle. How's the overall appearance? Are there any unsightly gaps? Do the exterior and interior colors look good together? Is the trunk and cargo area spacious enough for your needs? Is the driver's seat comfortable and easy to adjust? Are the controls easy to understand and use? Does the steering wheel feel good in your hands?
Check out the vehicle characteristics that are most important to you. If music is your thing, make sure the quality of the sound system is to your satisfaction. If you plan to have frequent passengers in the back seat, climb in the back and buckle the seat belt for the full effect. How about convenience features like cupholders or sunglass holders? If you use them a lot, this is a good time to examine them closely.
The Test Drive
Now that you've completed a thorough walk-around, you can concentrate on the driving experience. The test drive should help you make your final decision. When you drive the vehicle, take your time. Be sure to drive on both city streets and the highway and never feel you have to rush the process.
Whether you are an expert driver or not, there are key areas to keep in mind during the test drive that will ultimately matter in the long run:
Ride Comfort
Is the ride smooth or harsh? How does the driver's seat feel while driving? Are there any unusual vibrations or jolts when you go over rough roads?
Noise
Do you hear excessive engine noise coming through to the cockpit? Can you hear the wind coming through the windows? Or is there annoying road noise from the tires, or squeaks and rattles?
Power/Acceleration
How does the vehicle respond when you push the accelerator pedal? Does it hesitate or lurch forward? Does the engine feel strong and smooth?
Braking
When you apply the brakes, does the vehicle come to a smooth stop? Do you feel any vibrations through the brake pedal? Is the steering affected by the braking? Does the car stop in a straight line?
Handling
Is it easy to park? Does it seem easy to maneuver? When you turn the wheel, does the vehicle respond in a predictable manner? Is the turning radius tight enough to make a U-turn? Are there any blind spots that hinder visibility? Your driving experience should back up the homework you've already done. If not, you may want to revisit your selection. Now that you've driven the car, you may finally be ready to make a solid purchase decision. Remember, your final decision will always include a certain amount of emotion, but the more homework you've done, the less emotional your actual purchase will be.