2019 Kia Optima Driving Impressions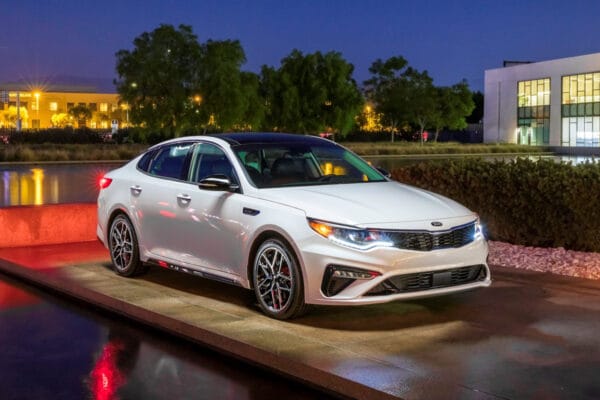 The base 2.4-liter engine's torque of 178 pound-feet is adequate for around-town acceleration, but the 1.6-liter turbo's 195 pound-feet is much better. However its 7-speed dual-clutch transmission behaved a bit balky during our seat time. Meanwhile the 2.0-liter turbo-4 earns heap of praise from us.
The SX is the fun-to-drive Optima. Its 2.0-liter turbo-4 makes 245 horsepower and 260 pound-feet of torque, mated to a 6-speed automatic. Power comes on strong at the bottom, with all the torque available at just 1,350 rpm, while paddle shifters make the transmission snap off shifts. And the power doesn't mean noise, as the SX has more sound insulation.
Every Optima has a selector for eco and normal modes, while the EX and SX add a sport mode. In eco mode all the responses are dulled to save fuel; in sport mode the shifts are sharper and come at higher rpm.
The LX and S keep a composed grip on the road, drawing on the Optima independent suspension with front MacPherson struts and a multi-link rear. This generation of Optima rides more smoothly than the last, with softer springs and more elastic front bushings; but it also leans more in corners, though not so much that it's an issue. The electric power steering is progressive and tracks well.
The Hybrids share the pleasant road manners. Both hybrids have a smooth and comfortable ride, thanks partly to their weight and also softer suspension settings.
The Hybrid uses a 154-horsepower 2.0-liter engine with a 1.6-kwh lithium-polymer battery pack and electric motor, for a net combined horsepower of 192. It can go a very short distance on battery power alone. The 6-speed automatic's shifts are smoother thanks to the battery power.
The Plug-In Hybrid uses a larger 9.8-kwh battery pack and a more powerful electric motor, for a net output of 202 horsepower; but it's also about 250 pounds heavier. It can go for up to 29 miles on electric power, or EV mode; but it's not easy. You have to go very very easy on the throttle, or the engine will kick in.