2019 Hyundai Kona Introduction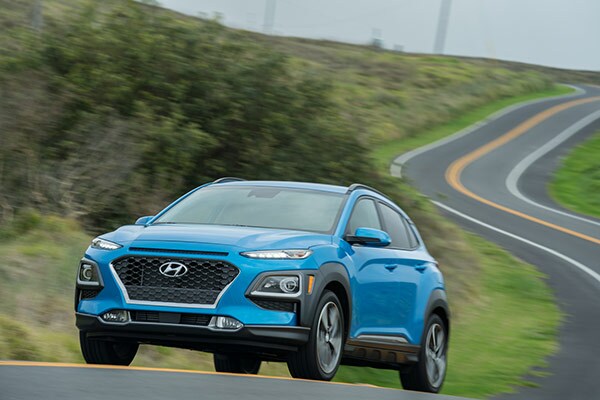 Kona is a region on the island of Hawaii, the biggest island in the Hawaiian archipelago. And now it's also the name of a new motor vehicle, the smallest in the Hyundai inventory.
Could this have something to do with Hyundai's decision to headquarter the Kona press preview in Kona? Could be.
Let's talk about the vehicle.
This newest of Hyundais will compete in the booming category we've come to know as crossover utility vehicles, CUVs for short. And within this increasingly popular category, the Kona falls into the smallest group, a playground already swarming with players, Jeep Renegade, Honda HR-V, Mazda CX-3, Kia Soul, Subaru Crosstrek, and Toyota H-CR, to name just a few.
What does the Kona bring to the game?
Not size. The Kona is one of the smallest of these small CUVs, though its cargo capacity, 19 cubic feet behind the rear seats, is competitive, despite diminutive exterior dimensions. Yes, rear seat space is snug, and accommodating adults back there requires cooperation by those up front. But this is something that can be said of pretty much every vehicle in this class.
However, the Kona's strong suit is dynamics. Robust power, by the standards of the segment, and responsive handling.
A key to the Kona's athletic character is an all-new sub-dural architecture, 52 percent composed of high-strength steel, something that Hyundai produces at home. The new platform will be employed for other vehicles from Hyundai and its Kia subsidiary; the Kona is its first application.
There are two powertrain choices, a 2.0-liter four (147 horsepower, 132 pound-feet of torque), with a six-speed automatic transmission, or (optional) a turbocharged 1.6-liter four (175 hp, 195 lb-ft) paired with a seven-speed dual clutch automatic. Both combinations can be found in other Hyundais.
Hyundai plans to offer other engines for the Kona in other markets, a 1.6-liter turbodiesel, and a 1.0-liter three-cylinder turbo, but for now, at least, neither will be available in U.S. models.
However, a pure electric Kona is in development, and is expected to appear in U.S. showrooms sometime in 2019.
EPA fuel economy forecasts aren't particularly impressive, 27 mpg city, 33 highway with the 2.0-liter engine, 26 city, 29 highway with the 1.6 turbo. Then again, none of the small CUVs are impressive in terms of mpg.