2019 Hyundai Ioniq Introduction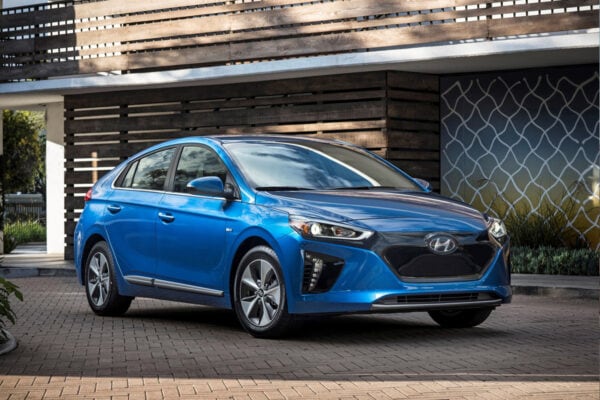 Unlike some electric and hybrid vehicles, the 2019 Hyundai Ioniq focuses more on affordability than luxury. Introduced for the 2017 model year, the Ioniq comes in three distinct forms: Hybrid, Plug-in Hybrid, and Electric.
Hyundai hasn't changed much on the Ioniq for the 2019 model year, except for adding several valuable active-safety features to the Hybrid SEL version. They include automatic emergency braking, blind-spot monitors, adaptive cruise control, active lane control, and a driver-attention warning.
A likable little hatchback, the Ioniq competes most directly with Toyota's familiar Prius, and succeeds quite well. Hyundai has attempted to make it feel like a "normal" car, and it has succeeded.
Hybrid models are available in three trim levels: Blue, SEL, and Limited. Plug-In Hybrid and Electric Ioniqs come in base or Limited trim. Currently, Electrics are available only in California.
In the Hybrid, a 1.6-liter 4-cylinder engine produces 104 horsepower and 109 pound-feet of torque. Working with a 32-kw (43-horsepower) electric motor, it uses a 240-volt lithium-ion polymer battery and 6-speed dual-clutch automatic transmission.
Plug-in Hybrid models use the same engine, tuned for maximum fuel-efficiency and fitted with a 44.5-kw (60-hp) electric motor. Instead of relying solely on the gasoline engine to recharge the battery while driving, they can be plugged into an electrical outlet to charge the 8.9-kwh (360-volt) battery. Operating solely on electric power, the Plug-in Hybrid can travel about 29 miles.
Electric models are powered by an 88-kw (118-horsepower) motor, using electricity supplied by a 28-kwh battery. Range is EPA-estimated at 124 miles, with energy consumption at 136 MPGe. Those figures could make Ioniq the most energy-efficient vehicle on today's market. Total system output is 118 horsepower, versus 139 hp for Hybrid models.
Full crash-test data is not yet available, but initial findings are favorable. Naming Ioniq a Top Safety Pick, the IIHS gave it "Good" scores in every test. The NHTSA has not yet crash-tested an Ioniq.