2019 Honda Civic Introduction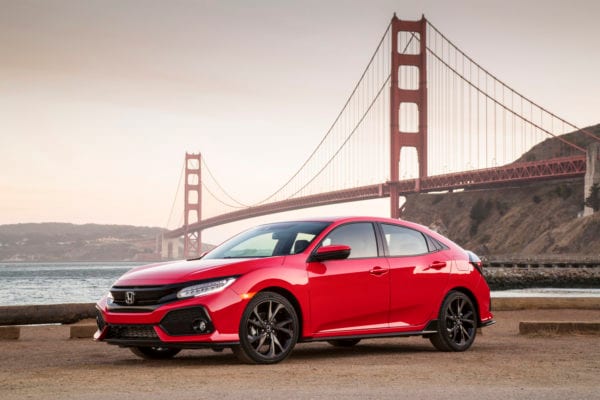 The Honda Civic has been around, and successful, for nearly half a century. You read that right, this is its 46th year. Another way of looking at that is that the Civic has been around for nearly half the time that cars have existed.
The sedan and coupe were redesigned in 2016. The hatchback followed in 2017, and for 2018 there were no changes. Now, in 2019, there are new headlamps, and some of the chrome in front has been replaced by cleaner black trim. But a more significant change is that automatic emergency braking, lane-departure warnings, and adaptive cruise control have been made standard on all models. That raises the price by about $500, but last year those features cost about $1,000 as an optional package.
There are so many types of Civic that it's difficult to generally describe the performance, but it can be said that it's a calm car, not a sporty one (except for the Civic Si and Type R), and it feels more like a small luxury car than a compact. It offers fluid handling, a comfortable ride, interior room in the sedan and cargo capacity in the hatchback.
The Civic family includes a coupe, sedan and hatchback, in six trims from base LX to Sport to fully-loaded Touring. They use two engines: a 158-horsepower 2.0-liter four cylinder, or a 174-hp 1.5-liter turbocharged four.
The Civic Si pumps that turbo four up to 205 horsepower, and uses an adaptive suspension; it changes the character of the Civic, offering fun with the frugality, and throws in refinement as a bonus.
The Type R hatchback with its aero styling tosses a shrieking 306-horsepower, 2.0-liter turbo-4 at buyers. Why? Because Honda can. Both the Si and Type R come with a continuously variable transmission (CVT), but a 6-speed manual is available.
Honda says the best-selling Civic is the sedan with the more powerful 1.5-liter turbocharged engine making 174 horsepower, which comes in the three top sedan models, EX-L, EX-T, and Touring (it's standard in the hatchback). Fuel mileage for those models is exceptional, at 32 mpg city, 42 highway, and a satisfying 36 mpg combined. The aerodynamics apparently aren't quite as good on the hatchback and coupe, which get 34 mpg and 35 mpg, respectively.
Civics with the non-turbo 2.0-liter engine making 158 horsepower make 2 mpg less, at 30/40/34 mpg with the CVT.
Even Civic Si with its bump up to 205 horsepower doesn't take a big hit on fuel mileage, at 28/38/32 mpg as either the coupe or hatchback. The Civic Type R is the relatively thirsty one, although 25 mpg and 306 horsepower is still a winning formula.
The 2019 Civic hasn't been crash-tested yet, but the 2018 earned five stars overall for most models, with four stars for the Coupe in the frontal crash test for the passenger side. The IIHS rated the Civic's active safety technology that is standard in 2019 "Superior."