2019 Cadillac ATS Driving Impressions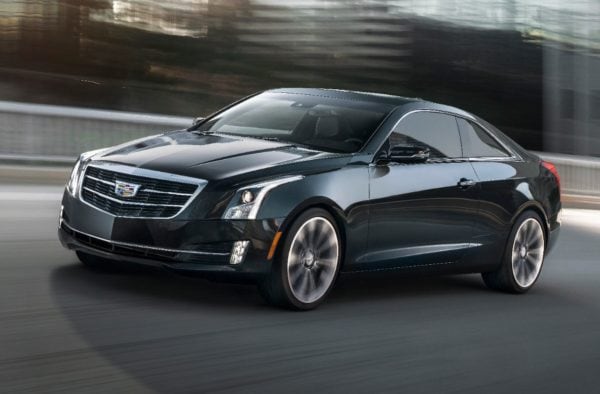 The ATS brings the most powerful 2.0-liter turbo in the class, its 272 horsepower more than that in the Mercedes C300. The engine is agile, nimble, quick and eager to run with the big boys. The ATS can shoot from zero to 60 mph in less than six seconds, which is right fast for a 4-cylinder in a big car.
The bigger engine, a direct-injection 3.6-liter twin-turbo V-6, is super-smooth and powerful. It turns the ATS into a long-legged cruiser. The 8-speed automatic is seamless.
With either engine, the chassis offers composure, confidence, and precision. The ZF electric power steering contributes much to that, a nice light touch in Normal mode. Sport makes it firmer but not quicker; we like that the steering ratio isn't variable, it makes the car more predictable. In the dynamic department, the ATS smokes the field, except for the BMW, which it matches.
The ride with the standard suspension is fairly stiff, but it might change with other available wheel sizes and tires. The suspension enables good cornering, and the ride is good even with the wider 18-inch wheels and tires. Brembo brakes come with the bigger wheels.
The available FE3 sport suspension uses dampers with magnetically charged fluid that changes the stiffness depending on the road surface. GM's Magnetic Ride Control (MRC) came from the Corvette, and continues to flatten the road.
The rear-wheel-drive ATS-V has a monster V-6, with 464 horsepower and 445 pound-feet of torque, thanks to twin-turbocharging the 3.6-liter engine. The electronic limited-slip differential keeps the power balanced between the rear wheels. The paddle-shifting 8-speed automatic is poised on the track, thanks to its sophistication. The Performance Traction Management stability and traction control system is adjustable. Huge Brembo brakes bring the car down from high speeds.
The body is very stiff, braced at the shock towers, rockers, subframe and engine bay. That helps make the ATS-V remarkably easy to drive, with an alive feel that some rivals lack. However it can get a bit squirmy, with 3,700 pounds of curb weight pushing on relatively narrow 255-series front tires.
The ATS was developed at the challenging Nuerburgring, a benchmark circuit that's a surefire signal that a manufacturer is serious about handling. And proof that Cadillac does not fear to tread into the backyard of Mercedes and BMW.