2019 Audi e-tron Introduction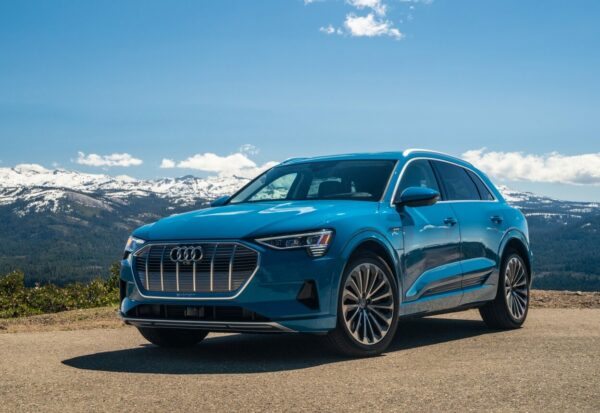 The 2019 Audi e-tron, a spacious crossover SUV, is the first all-electric car from Audi. It delivers all the things Audi is known for, including a warm and well-detailed cabin and all-wheel drive. It slots into the Audi lineup between the midsize Q5 and larger Q7 and Q8, but looks more like the Allroad wagon.
The e-tron is powered by two electric motors, one at the front and one at the rear. Its silent acceleration makes it feel even faster than its 0-60 mph capability in a very brief 5.5 seconds, which it manages to achieve despite carrying 1,540 pounds of batteries, mounted below the passenger floor. And it can still tow another 4,000 pounds, when equipped with the towing package. It rides on an air suspension, which helps dampen the effects of that weight.
An innovative braking system helps maximize regenerative braking to recover energy when decelerating, while another new system is designed to prevent the dramatic loss of range in cold weather. Roughly like recycling, it uses power loss from the electrical components for cabin heating.
These features help give the e-tron an EPA-rated range of 204 miles from its 95-kwh battery pack. In our test run, we got close to the EPA rating.
That's less than its main rival the Jaguar I-Pace, which has an EPA range of 234 miles with its 90-kwh battery pack, and less than the Tesla Model X, which gets 238 miles from its 75-kwh battery pack (75D) and up to 295 miles from its 100-kwh battery pack (100D). It's similar to the range provided by the new Mercedes EQC.
The Audi e-tron charges very quickly, to 80 percent on a 150-kw CCS (Combo) DC fast charger in just 30 minutes. Those chargers are becoming increasingly common and are part of Electrify America's charging-infrastructure push. With a Level 2 AC charger—the kind that you might have installed at home or in the garage, or find at some hotels—the e-tron can be fully charged in as little as 9 hours.
The e-tron has Drive Select, with six modes: Auto, Comfort, Efficiency, Individual, Offroad, and Allroad. It maneuvers well and handles like a lighter vehicle, but it's heavy nonetheless.
The ride is calm, composed and comfortable, and the e-tron is silent beyond the soundless powerplant. Smaller and cheaper electric cars tend to transmit a lot of road noise, which can be heard because there's no engine to smother the thumps of the suspension and whining of the motor; but the luxurious cabin of the e-tron is quiet at all times.
The 2019 e-tron hasn't been crash-tested or rated for safety by either of the U.S. agencies, but automatic emergency braking is standard, along with active lane control. Other active self-driving features are optional.