2019 Audi Q8 Introduction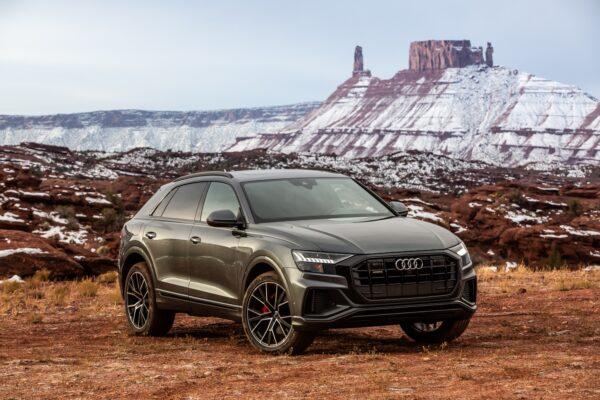 The 2019 Q8 is Audi's new flagship crossover SUV. It's stylish, quick, graceful, and stuffed with technology, and it's built for comfort and speed.
The Q8 seats five just fine, but four get the royal treatment. It's related to the Audi Q7, and shares its 117.9-inch wheelbase. Since it omits the third row of seats, the Q8 is three inches shorter than the Q7.
The Q8 uses Audi's proven and smooth turbocharged 3.0-liter V-6 with its 8-speed automatic transmission and full-time all-wheel-drive system. A 48-volt mild-hybrid system cuts the engine at stoplights for better mileage—19 mpg combined, according to the EPA.
The Q8's standard adaptive dampers give it a supremely comfortable ride; the available air suspension with rear-wheel steering delivers magnificent isolation.
Standard equipment includes automatic emergency braking that can prevent or mitigate forward crashes up to 52 mph. Optional safety equipment includes adaptive cruise control, blind-spot monitors, and rear side airbags. Audi's available driver-assistance feature can help pilot the car for long distances or in stop-and-go traffic for 60 seconds without driver input, but it's not totally hands-free.