2019 Audi A7 Introduction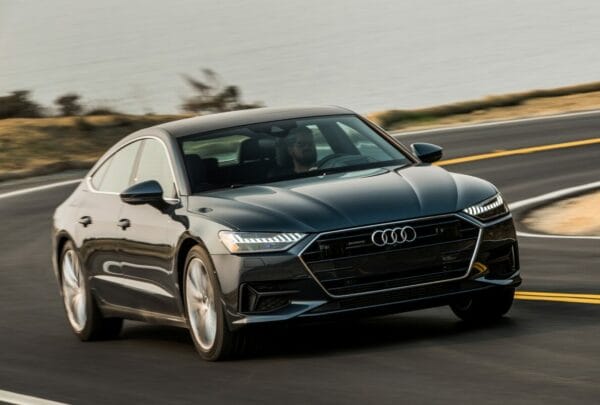 There are more expensive cars, and cars with more power and luxury, but if ever a car felt like a private jet, it's the 2019 Audi A7.
After a sensational first generation, the Audi A7 begins its second generation with the 2019 model. It's more rigid and lighter, though it's bigger. The wheelbase has increased by 0.5 inch and the overall length by 0.8 inch, providing a boost in rear legroom of 0.8 inch.
The new A7 is also about tech, with a mild-hybrid system that powers accessories at stoplights and idle, and the evolution of the infotainment interface with digital displays and two big screens—no buttons, no more mouse-like knob to click.
The high-performance Audi S7 and RS 7 are derivatives of the A7, but they aren't redesigned for 2019. We review them separately.
The A7 changes for 2019 mimic those in the less breathtaking A6, also beginning its second generation, and using the same new powertrain. The new engine is a turbocharged 3.0-liter V-6 making 340 horsepower and 369 pound-feet of torque. That's the same power but significantly more torque than the supercharged V-6 it replaces, resulting in more pull from a lower speed. The transmission is a beautifully engineered and well-proven 7-speed dual-clutch automatic, mated to all-wheel drive. The 8-speed traditional automatic available in last year's A7 has been dropped.
On the outside, the 2019 A7 sports a grille that's lower and wider. The sheetmetal of the long hood has been reshaped, the character lines have been sharpened, and the rear haunches made more muscular. New taillights are part of a design that fills the width of the rear end.
Safety-wise, the A7 gets nearly every feature known to man, including two self-parking systems (one of which uses a smartphone to park the car in a garage, for people who aren't capable of doing it themselves), and a unique forward cross-traffic system.