2018 Volvo V90 Introduction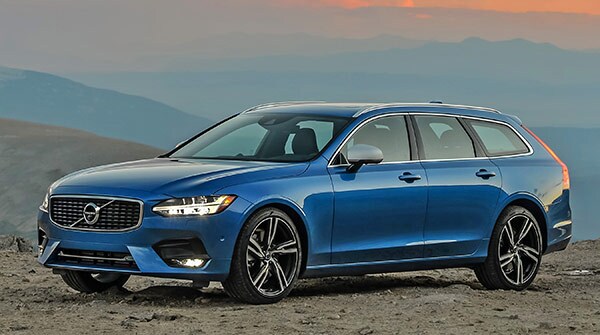 Introduced for 2018, Volvo V90 is the brand's latest premium wagon, sharing engines, structure and features with the S90 sedan and XC90 crossover. It's the longest and largest wagon currently sold in the U.S.
The 2018 Volvo V90 is part of a chain of V-series wagons that go back a long way with Volvo, usually related to S sedans with similar or identical powertrains and features.
2018 V90 wagons come in a range of models, including Cross Country models that sit taller and are capable of modest off-highway duty.
Two distinct engine choices are offered. In T5 models, a 2.0-liter turbocharged four-cylinder develops 250 horsepower. T6 models adopt a 316-horsepower version of that four-cylinder engine, which is both turbocharged and supercharged. Each engine mates with an 8-speed automatic transmission.
V90 wagons come in several trim levels: R-Design and Inscription, in addition to a base model and an Ocean Race Edition. The latter commemorates Volvo's connection to maritime racing.
Front-wheel drive is standard on the base T5 model. T6 versions and Cross Country wagons come only with all-wheel drive.
More flamboyantly designed and sporty-looking than most wagons, V90s demonstrate clean Scandinavian elegance. V90 Cross Country models have higher ground clearance and can be fitted with lower-body cladding that provides a more rugged appearance.
No crash-test data has been released by either the National Highway Traffic Safety Administration or the Insurance Institute for Highway Safety. However, the latter agency gave the related S90 sedan several Good scores, plus Superior frontal crash prevention, though headlights were deemed problematic.
Advanced safety technology has long been a Volvo hallmark, which continues with the V90. Standard safety features include blind-spot monitoring and rear cross-traffic alert, forward-collision prevention, and adaptive cruise control. Volvo's City Safety object-detection system can now warn of large animals ahead.
An updated version of Volvo's semi-autonomous driving system, introduced on the 2016 XC90 crossover, is standard on V90 wagons. Pilot Assist allows the wagon to accelerate, slow down, and come to a halt on its own. The wagon can also steer itself between highway lane markings, and detect road edges. The driver cannot take his or her hands off the steering wheel for more than about 15 seconds at a time.
V90 Cross Country wagons can be found and purchased at Volvo dealerships in the usual way. For regular V90 wagons, Volvo turned to a pre-order procedure, shipping a vehicle only after the purchase has been completed.