2018 Toyota Land Cruiser Walk Around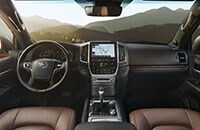 Kinship to the past is evident from a few styling cues, helping the bulbous but good-looking SUV stand out in its category. Starting with the nearly-classic 1991 model, the Land Cruiser's sizable shape has retained its kinship with tradition.
Up front, chrome ribbons highlight the LED headlights. Despite 9.0-inch ground clearance, removable side steps make the Land Cruiser appear lower than expected. Chrome is amply applied to the rear as well, yet the overall look is conservative and reasonably tasteful.
Interior
Ready to cope with its array of off-road technology, the upright, symmetrical dashboard is packed with large buttons and knobs. Yet, most controls are built into the infotainment screen. At the center console, controls for the transfer case and traction system sit alongside a conventional gearshift lever.
At a glance, the Land Cruiser almost resembles a luxury sedan. Space is bountiful, though not every passenger enjoys equivalent accommodations. Front seats are wide and well-padded, helping to provide excellent views. Row two isn't far behind in comfort, with space for three average-size adults.
Three seatbelts await in the third row, but youngsters are the most likely occupants. The truck-based third-row configuration precludes foldaway seatbacks. Instead, two removable seat halves can fold upward when not in use.
Semi-aniline leather upholstery feels tempting, but hard plastic trim seems out of place in such a costly vehicle.
Cargo volume totals a sizable 16.1 cubic feet behind the third row, expanding to 43 cubic feet when those seats are folded away. Removing third-row seats and folding second-row seatbacks boosts space close to 82 cubic feet.