2018 Toyota Land Cruiser Driving Impressions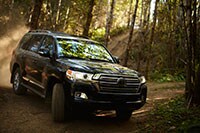 Indisputably, the Land Cruiser's solid rear axle and separate, reinforced chassis reach back to a long-ago time. Yes, Toyota's big SUV feels solid all-around.
Ride comfort could easily be described as silken smooth and comfortably composed, helped by soft 18-inch tires. A huge amount of rear-wheel articulation is good news for off-roaders, but can translate to occasions of head-tossing during on-pavement stretches.
Toyota's Kinetic Dynamic Suspension System allows oversize anti-sway bars to disconnect automatically at low speeds, when additional wheel travel is helpful. Relatively soft springs and sizable tires let the SUV cope handily with bumps.
Land Cruisers can roll through winding roads and twisty trails with commendably minimal body lean. Vehicle size and weight conspire with light steering to make handling ponderous, which is hardly a surprise.
Off-road trekkers can expect sterling levels of tenacity. Far beyond the pavement is where the Land Cruiser shines brightest. By pushing a button, Crawl Control uses the traction control and ABS to keep the SUV moving slowly though any terrain. Another knob selects specific traction-control settings.
One switch tightens the turning radius by braking an inside wheel, allowing the vehicle to pivot. For extreme conditions, the limited-slip differential can be locked. Even when dashing through sand dunes, the Land Cruiser feels nimble and eager.
When off-road, the foremost obstacle might be the Land Cruiser's width: almost 78 inches. Obviously, some narrow trails could prove problematical.
Despite its weight, a Land Cruiser accelerates briskly. Transmission shifts are prompt and smooth, though an occasional moment of gear-change confusion can occur. Helped by its separate ladder frame, this SUV can tow up to 8,100 pounds
Land Cruisers are among the least-efficient vehicles available, EPA-rated at 13/18 mpg City/Highway, or 15 mpg Combined. Regular fuel is sufficient.