2018 Porsche Panamera Introduction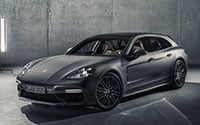 Launched as a 2010 model, the Panamera brought Porsche into a new vehicle category. Created to complement the German automaker's illustrious sports-car heritage, the Panamera was a masterfully stylish four-door luxury fastback sedan, whose enchanting lines easily turned heads.
Redesigned for 2017, the second-generation Panamera grew slightly and adopted a fresh look. For the 2018 model year, a new Sport Turismo hatchback body style joins the sedan. The 2018 lineup includes twin hybrid plug-in models, topped by the 680-horsepower Turbo S E-Hybrid.
Porsche offers 17 versions, five of which are Sport Turismos. The lineup includes a base model, all-wheel-drive Panamera 4 and 4S, long-wheelbase Executive, and Turbos.
The rear-wheel-drive base Panamera holds a turbocharged 3.0-liter V6 rated at 330 horsepower, able to reach 60 mph in 5.4 seconds. All but the base model feature all-wheel drive.
In the Panamera 4S, a twin-turbo 2.9-liter V6 produces 440 horsepower (up 20) and 406 pound-feet of torque. Acceleration to 60 mph is achieved in as little as 4.0 seconds. The Panamera Turbo V8 raises the ante to 550 horsepower and 567 pound-feet.
A fast-acting 8-speed dual-clutch automatic transmission, called PDK (Porsche Doppelkupplung) goes into all models.
Two E-Hybrid models are offered. The 462-horsepower, 2.9-liter 4 E-Hybrid develops 516 pound-feet of torque. Accelerating to 60 mph in 4.4 seconds, it can travel more than 30 miles on electricity alone.
Inspired by the 918 Spyder, the flagship Turbo S E-Hybrid boasts 680 horsepower and 626 pound-feet from its 4.0-liter V8/electric powertrain. Both hybrids use lithium-ion battery packs. Porsche says recharging takes 12.5 hours at a 110-volt outlet, dropping to 2.4 hours with a 240-volt charger.
Conventional models seat four, while the Panamera Executive, with its longer wheelbase, adds about 6 inches of rear-seat legroom. Sport Turismos come with either four-place seating or a 4+1 configuration that replaces the rear-seat console with a narrow, high-riding middle seat.
Not everyone swooned over the first generation. Some branded it lumpy; but the current Panamera is more cohesive in nature.
Neither the NHTSA nor the IIHS has crash-tested the Porsche Panamera.
All models have forward-collision warning, automatic emergency braking, and a rearview camera. Active lane control, adaptive cruise control, Night Vision, and automatic parking assistance are optional.