2018 Nissan Leaf Walk Around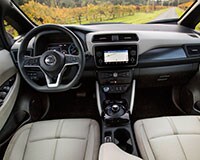 Inconspicuous, the 2018 Leaf looks like any other five-door compact hatchback. It looks like other Nissans. You have to spot the trap door on the nose for the electric plug to realize what it is.
Interior
One strong feature of the Leaf that it has the interior space of a midsize car in its compact exterior package. It will seat four comfortably, and five without much effort, thanks to careful mounting of the battery pack deep under the rear seat.
Inside, the only thing that gives away its electric being is the drive selector, shaped like a mushroom. The Leaf starts with a button and goes into gear with a mouse. But then it gets electric, and comes to life. The digital displays are dazzling. A screen in the center of the dash displays range, maps, energy use, nearby recharging points, and more.
Since an electric car has no engine to drown out the road noise, a well-isolated cabin is critical. A special detail in the Leaf is its exclusive silent windshield wipers; engineers tried using the wipers from a luxury Infiniti, but they were too loud.