2018 Nissan Leaf Driving Impressions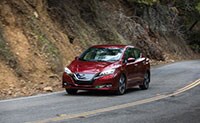 Entirely calm and quiet, the Leaf can accelerate more quickly than an economy car with an engine. There's less drama, but also less excitement. At least less visceral excitement. Being rapidly whooshed can be exciting too.
It silently accelerates from zero to sixty in less than 10 seconds, and can go 90 mph, although not for 150 miles. That's easily quick enough to keep up with traffic. It's easy to drive, although boring.
The new lithium-ion battery pack and electric motor bring a huge boost in power and acceleration, with in increase in horsepower from 107 to 147, and an increase in torque from 187 pound-feet to 236 pound-feet. The Leaf had good acceleration before, and now it's even stronger. It's especially improved between 40 and 70 mph, important because that's the passing speed on two-lane highways.
At speeds above about 50 mph, the steering gets heavier, as if the car were pushing into headwind, which is exactly what's happening with wind drag, so the range drops like a stone.
The accelerator pedal demands a lot of pressure to get all the way down. It's a deliberate design, to discourage the driver from using up precious energy and range.
Eco mode cuts power by 10 percent to increase the range, but it often feels like more. When you floor it, it snaps out of Eco and gives what you ask, all the juice it's got.
A plug-in electric heater keeps the battery warm overnight in winter.
One thing that will be a joy to city drivers, which is most of them because an electric car is a city car, is the tiny turning circle of 17 feet. Easy to make a U-turn to snag that parking space on the opposite side of the street, like they do all the time in San Francisco.
The regenerative braking is tuned to feel like an automatic transmission. There's a B mode, which increases the regeneration to feel like engine braking. B mode theoretically brings you more range, because it keeps the battery charge higher and longer; but it requires more concentration from the driver, so allow for that aggressive braking.
The deep-mounted battery pack lowers the center of gravity, so the balance is good, and there's no body roll during cornering, but neither is there much feedback or feel in the steering. Hard cornering isn't what the Leaf is all about anyhow, nor is that something Leaf owners are likely to engage in, on their way home from the library. However, it is a tall car on small wheels, so it's sensitive to side winds.
Overall, the Leaf's handling and roadholding are adequate, but hardly engaging; driven aggressively, it's disappointing, with numb steering and little feedback. The driver feels removed. But on the upside, the turning circle is a shockingly small 17 feet.