2018 Mini Countryman Walk Around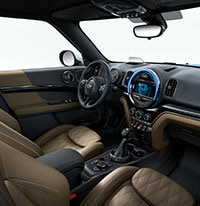 We already said what best describes the Countryman: it's large. For something called a Mini. It's also bulbous and ungainly, although it does its best to hide its girth. And the Countryman really does labor against the disadvantage of being compared to the Mini Cooper. If the smaller car weren't an icon, or if it didn't exist at all, no one would be calling the Countryman fat. Size-wise, it would be just another compact SUV.
But back to the body-shaming. It has a protruding chin under its bulging headlamps. There's an attempt to look rugged, with unpainted fender flares. The roofline is curious. Mini purists might not be crazy about it. Or the whole adventurous car.
Interior
The cabin is well laid-out and comfortable, carefully furnished and finished, while still being characteristically quirky and joyful. Soft-touch plastic surfaces are plentiful, while materials are high quality. Tall windows and slim pillars provide good forward visibility for the driver.
Four adults can ride in comparative comfort, with decent legroom in rear; but the fifth one needs to be slim, if he or she is in the middle rear seat. It's fairly quiet, although the wide 18-inch tires on the Cooper S can be noisy.
At the dashboard center, a large circular panel functions as a hub for most operations, with some controlled by toggle switches. A 6.5-inch screen is standard. The 8.8-inch touchscreen displays elegant maps, but navigation is a costly option.
Characteristically, over-the-top gauges and wild lighting convey a feeling of youthful excess. It seems to be popular.
After all the to-do about enlargement, the Countryman still feels confining with a full load of people and luggage. But what compact wouldn't.