2018 Mini Countryman Introduction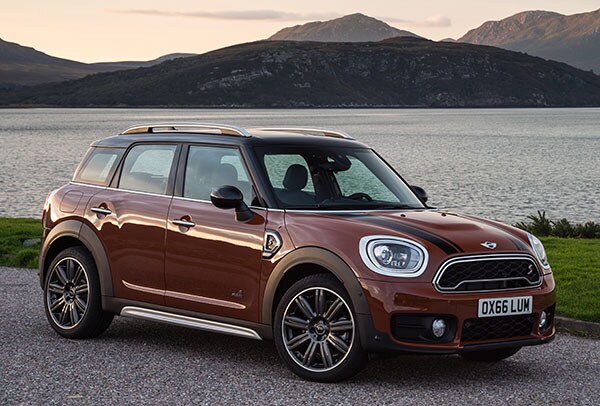 A new plug-in hybrid model joins the 2018 Mini Countryman lineup. The five-seat Countryman was a new design for 2017, so it hasn't changed for the 2018 model year otherwise.
Though the bodywork looks the same, Countryman is a bit more refined and a lot bigger than the traditional Mini Cooper hardtop. The crossover is 8 inches longer on a wheelbase that's 3 inches longer than that of the hardtop, but it's also blown up all around. It's taller, because it's a wagon, and has more ground clearance. It's larger than the Mini Clubman.
Countryman is built on the platform of the BMW X1, and shares engines and suspension components as well. Front-wheel drive is standard, and it's available with BMW's ALL4 all-wheel drive.
Though not as vibrant as the hardtop, the Countryman has a ton of personality and character and, relative to other subcompact SUVs, it has fabulous handling.
The base engine is a turbocharged 1.5-liter three-cylinder making 134 horsepower and 162 pound-feet of torque. The Cooper S gets a turbocharged 2.0-liter four-cylinder cranking out 189 horsepower and 207 pound-feet.
There's also John Cooper Works model, with that engine turbo-boosted to make 228 horsepower and 258 pound-feet of torque. All-wheel drive is standard, along with a sport suspension and body kit that gives the Mini some muscle. John Cooper founded the Cooper Car Company with his father after WWII, and his open-wheel rear-engined cars ruled for years, including the F1 world championship in 1959, the year the Mini was born, and 1960. Minis remain available with the classic Cooper stripe.
The standard transmission is a 6-speed manual gearbox, with an optional 8-speed automatic for the 2.0-liter engine, and a 6-speed automatic for the front-wheel-drive 1.5-liter. ALL4 all-wheel drive isn't meant for rugged off-roading, but rather for security on slippery roads. It's good for snow and ice, or maybe sand and mud if that happens.
The new plug-in hybrid is called the Cooper S E ALL4. It uses the 1.5-liter three-cylinder engine to power the front wheels, and an electric motor driven by a lithium-ion battery to power the rear wheels. The total horsepower is a neat 221; transmission is a 6-speed automatic. It can run 24 miles on all-electric power, far enough to be a gasless daily commuter in a small town.
All versions include eight airbags and a rearview camera. Two advanced safety features are available in an option package: adaptive cruise control, along with forward collision warnings with automatic emergency braking.
With either the 6-speed automatic or 6-speed manual, and front-wheel drive, the 1.5-liter Countryman gets 28 Combined miles per gallon. ALL4 gets two miles per gallon less with manual, three less with automatic. Premium gasoline is required for all models.
The Cooper S with its turbocharged 2.0-liter four-cylinder 24 Combined mpg in either front-wheel or all-wheel drive, with the manual. But go for the 8-speed automatic and it brings it up two or three miles per gallon.