2018 Mini Countryman Driving Impressions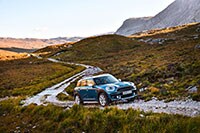 In addition to vibrancy, Minis are known for handling, and the Countryman doesn't let down the reputation. It's delight to drive, more so than the BMW X1.
The electric power steering is precise, the chassis stiff, and the suspension tuned by experts in the art. The driving experience is stimulating yet relaxed. Except when it feels slightly jumpy, almost darty. The steering can be over-precise, if the driver is. But if the Countryman wanted to be easy like a Honda CR-V, well, never happen.
Rolling through the curves, it stays firmly planted, not much body lean. The plug-in hybrid is heavier, carrying its battery pack and motor, so it doesn't toss around so easily.
The ride control is great. There is an available adaptive suspension that tightens the ride at the flip of a switch.
In ruts and potholes, most of the thumping and crashing is curtailed.
The three-cylinder turbocharged 1.5-liter engine is peppy enough, although you can feel it vibrating in the steering wheel, when you're working to keep up. The four-cylinder turbocharged 2.0-liter engine is smoother, as well as faster.
The 8-speed automatic that's available for all-wheel-drive models holds back a bit when starting off. But there's another 8-speed automatic available, with paddle shifters, and programmed for sportier driving. We'll take that one. Or be happy with the 6-speed manual transmission that's a joy to shift, with either engine.
We got good seat time in the new plug-in hybrid, the Mini Cooper S E Countryman All4. The three-cylinder engine is matched with a 65 kw (87 hp) electric motor and 7.6-kwh battery for a combined output of 221 hp. The electric motor powers the rear wheels, and sends some power to the front as well, which makes it a through-the-road hybrid system.
To accelerate up to highway speed using all-electric power, you have to pay attention. It's not as fast as gas power. But it's well-silenced, when both the motor and gas engine are being used.
The EPA rates the all-electric range of 12 miles, while BMW claims 24. We wonder why. Must be different test criteria. Maybe the Mini test track is downhill. We take back what we said about it being a gasless daily commuter. We were going on PR.
BMW marketing of the Mini Cooper S E Countryman All4 is fairly casual on the plug-in thing. Some buyers of the plug-in hybrid won't even bother to plug it in; what for, to save a half-gallon of gas, while adding the chore of plugging it in at night? It's not always convenient, we've been there a few times.
But they can still say they drive a hybrid.