2018 Mini Cooper Introduction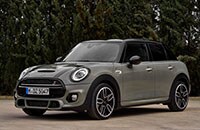 There are a lot of different Mini Coopers. There's a 2-door (which might be considered a 3-door hatchback), a 4-door (or seen as a 5-door), a convertible, and a 4-door Clubman with all-wheel drive and barn doors at the rear.
The 2-door is 150.4 inches long, the 4-door is 156.8 inches, and the Clubman is 168.3 inches, the latter about the size of a four-door Volkswagen Golf.
Excepting the Clubman, the Mini Cooper is smaller and less practical than many hatchbacks that cost a lot less. Last redesigned for 2014 (when it gained several hundred pounds), it's built on the platform of the BMW X1.
We like the Hardtop 2 Door the most; it's the classic, and a delight to drive. The classic color is red with a white top. If you know who John Cooper was and are familiar with his Formula Juniors and Grand Prix racecars, you might appreciate a pair of distinctive Cooper stripes. Or maybe you'll want a Union Jack on the lid.
Engines in the mix include the standard turbocharged 1.5-liter three-cylinder making 124 horsepower; the Cooper S with a turbocharged 2.0-liter four-cylinder making 189 horsepowe; and the John Cooper Works version of that engine making 228 horsepower. Each uses either a 6-speed manual (which we prefer) or automatic transmission.
Very little on the Mini Cooper has changed for 2018. It gets a standard rearview camera and some package reshuffling.
With the 1.5-liter engine and 6-speed manual, the Mini Cooper gets an EPA-estimated 28/38 miles per gallon City/Highway, or 32 mpg Combined. Cooper S is rated 23/32/26 mpg with the manual. The powerful John Cooper Works gets 23/31/26 mpg. The Convertible S gets the same, but with automatic is rated higher (better). All Mini Coopers require Premium gasoline. Your mileage may vary, however. During our test drives, we got about 25 miles per gallon in both the Mini Cooper and Cooper S, including a lot of spirited driving through canyon twisties. Out on the interstate, we got up to 40 mpg.
The Mini Cooper got the top safety rating from the insurance industry (IIHS) in 2016, with a Top Safety Pick+. However the federal government's NHTSA doesn't agree, giving the Mini only four stars overall.