2018 Mercedes-Benz GLS Introduction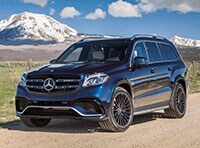 Introduced for the 2017 model year, the full-size GLS SUV served as a successor to Mercedes-Benz's GL-Class model. Apart from a new front end, the still-boxy GLS differed little from its GL predecessor.
Unchanged for 2018 except for an additional 19-inch wheel choice, the GLS carries on its traditional, old-school approach to SUV design. Rather than attempt to conceal its squarish profile, the GLS appears to relish its role as a delightfully charming three-row people-carrier.
A new trim level will be available in summer 2018: The Grand Edition will offer high-end leather interiors and unique 20-inch wheels.
Mercedes-Benz offers three models: GLS 450 with a V6, GLS 550 with V8 power, and high-performance Mercedes-AMG GLS 63, packing a 577-horsepower twin-turbo V8 that issues 561 pound-feet of torque.
All-wheel drive is standard on all three.
In the GLS 450, the twin-turbo 3.0-liter V6 develops 362 horsepower, driving a 9-speed automatic transmission that's ready to deliver brisk acceleration. The same 9-speed transmission serves the GLS 550, whose 4.7-liter V8 generates 449 horsepower and 516 pound-feet of torque.
To handle all the power of the 5.5-liter V8 in the AMG GLS 63, a tough 7-speed automatic is installed. Not many GLS buyers are likely to opt for the AMG variant, with its 4.5-second 0-60 mph acceleration time, but it's still a welcome addition to the lineup.
No one is likely to be surprised by the GLS's impressive all-weather capability, or its overall cargo-hauling talents. Compensation for crosswinds is programmed into the GLS. The driver-attention monitor displays a coffee cup as a warning, when sensors determine that the driver may be getting drowsy.
In addition to all the panache that's provided by Mercedes-Benz's big luxury SUV, the GLS boasts plenty of available safety technology. Forward-collision warning with automatic emergency braking is standard, along with a rearview camera. Safety options include blind-spot monitoring, adaptive cruise control with steering assist, active lane control, and traffic-sign-based speed warnings.
Safety ratings are absent, because neither the National Highway Traffic Safety Administration nor the Insurance Institute for Highway Safety has crash-tested the GLS.
Even though the GLS doesn't promise off-pavement prowess to rival Range Rover models, it can be fitted with such features as navigation, high-end audio, premium leather upholstery and wood trim, and an Off-Road package. On the infotainment front, Apple CarPlay and Android Auto are included.