2018 Mercedes-Benz GLA Introduction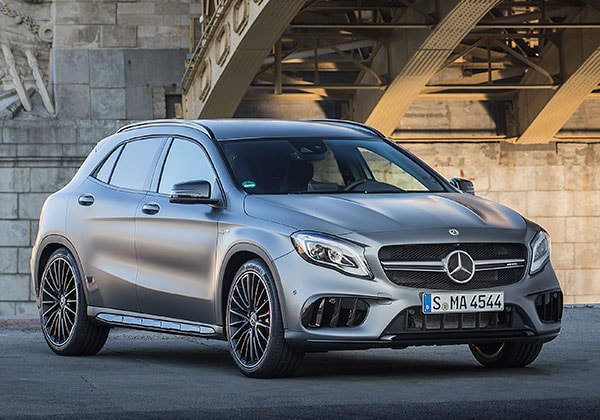 The 2018 Mercedes-Benz GLA SUV gets a moderate reworking, led by a fresh front-end appearance and more prominent bumpers. Slight aerodynamic touch-ups have been applied, to help smooth the body contours. Several new safety and convenience features have been added, including a rearview camera as standard. A new GLA250 Ice Edition is available.
Also new for the 2018 AMG GLA45 is an optional AMG Performance Studio Package, LED headlights as standard and a new front air dam and air intakes.
A year after launching the CLA four-door coupe, Mercedes-Benz followed with a GLA crossover as a 2015 model. For the first time in a generation, the German automaker had a pair of small cars on sale. They were also the first front-wheel-drive models offered to American buyers.
The 2018 lineup continues with the GLA250 with front- or all-wheel drive and the performance-oriented AMG GLA45 with all-wheel drive.
The GLA250 holds a turbocharged 2.0-liter four-cylinder engine that produces 208 horsepower and 258 pound-feet of torque. Sole transmission is a 7-speed dual-clutch automatic. With front-wheel drive, the GLA250 can reach 0-60 mph in 7.2 seconds. All-wheel drive is an option for the GLA250.
In the AMG GLA45, a retuned variant of the 2.0-liter turbo whips up a boisterous 375 horsepower and 350 pound-feet. That's enough to slash the 0-60 mph acceleration time to a rapid 4.3 seconds. All-wheel drive is standard. Dynamic Select can alter several settings, include engine sound.
With either powertrain, the compact GLA promises the practical virtues of both a crossover and a hatchback, combined with appealing gas mileage. Counteracting its merits is a relatively stiff ride.
Plenty of options are available, which translates to standard-equipment lists that aren't quite as extensive as those on some competitors. Available extra-cost features include Apple CarPlay and Android Auto capability, a panoramic sunroof, hands-free tailgate, and leather upholstery.
In addition to start/stop technology to shut off the engine at stoplights, each GLA has forward collision warning with automatic emergency braking, along with a rearview camera. A surround-view camera is newly optional, joining lane keeping assist, blind-spot monitoring, adaptive cruise control, and an automatic parking assistant.