2018 Mercedes-Benz C-Class Introduction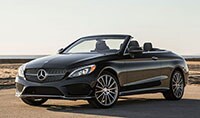 The Mercedes-Benz C-Class comes in four-door sedan, two-door coupe, and two-door Cabriolet versions. They current generation began when the sedan was launched for the 2015 model year, followed by the coupe for 2016 and Cabriolet for 2017. It still looks stunning in all three versions.
For 2018, C 300 and C 300 4MATIC sedans get a new 9-speed automatic transmission to replace the 7-speed transmission. This makes 2018 Mercedes-Benz C 300 models a bit quicker, reducing the zero-to-sixty time from 6.0 to 5.8 seconds.
There are a number of powertrains, identified by the names for the C-Class: C 300, C 350e, AMG C 43, AMG C 63, and AMG C 63 S. The five powertrains all use turbocharged engines with four, six or eight cylinders. The transmissions have seven or nine speeds, with rear-wheel drive or 4MATIC all-wheel drive.
C 300 models use a 2.0-liter turbocharged four-cylinder engine making 241 horsepower, mated to the new 9-speed, with rear- or all-wheel drive in the 4MATIC.
The C 350e plug-in hybrid uses a turbo four and battery pack, making a total of 275 horsepower.
The AMG C 43 uses a turbo V6 making 362 horsepower, with the 9-speed that was new in this model last year. It shoots from zero to sixty in less than five seconds, and has sports exhaust and adaptive sports suspension. It rides the middle lane between the mild-mannered C 300 and hot-rod AMG C 63 that uses a twin-turbocharged 4.0-liter V8, making 469 horsepower. Then there's the AMG C 63 S that makes 503 horsepower and blasts to 60 mph in less than four seconds, with a top speed of 180 mph. It competes with the Cadillac ATS-V and BMW M3.
The C 300 sedan gets an EPA-rated 24/34 mpg City/Highway, 28 mpg Combined. With all-wheel drive it gets one less mile per gallon, while the coupe and convertible get two less. Over a 90-mile run in the C 300 sedan, a mix of freeway, suburbia and country two-lanes, we got more than 30 mpg. The high-performance C 43 AMG gets 20/28/23 mpg. The powerful V8 in the C 63 sucks gas, with a score of 17/23/19 mpg.
The C-Class earned five stars from NHTSA, with four stars in frontal crash and rollover.
Advanced safety technology includes forward collision warning with automatic emergency braking, blind-spot monitors, driver attention alert, and a semi-autonomous traffic assistant that follows the car ahead at up to 37 mph. There's also an advanced brake assist system that detects pedestrians and parked cars, and automatically brakes, at up to 45 mph. The lane-keeping system applies the brakes on one side of the car to stop what the sensors think is unintentional drifting–but in our experience most of the time it's not. Active parking assistance, surround-view cameras, and traffic sign assistance (which warns of speed limits, no-entry signs, and other information) are also among the available high-tech safety equipment.