2018 Lincoln MKX Driving Impressions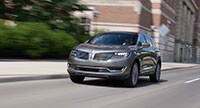 Refinement takes precedence over driving excitement. Cool and composed on the highway, this premium midsize crossover conveys a suitably upscale aura.
With its standard adaptive suspension and relatively long wheelbase, the MKX blends satisfying ride comfort with composed handling prowess. European crossovers might promise sharper responses, but few drivers are likely to feel shortchanged.
Base-engine power is sufficient for strong acceleration. Though the optional 2.7-liter twin-turbo V6 isn't much more powerful, its more intensive yet smooth flurry of torque might be worth the additional cost. In additional to feeling more upmarket, the twin-turbo responds more effectively for highway passing. Lincoln's 6-speed automatic transmission works nicely, yielding both smooth upshifts and prompt downshifts.
Selecting Comfort mode may remind some drivers of the light steering feel of old Lincoln models. Sport mode adds some heft, though precision doesn't change as much. All-wheel-drive models have a three-way suspension adjustment that feels best in Sport mode, never turning stiff but conquering harsh pavement. Brakes deliver drama-free halts, even when five passengers are aboard.
Less efficient than expected, the MKX falters in fuel economy. With front-wheel drive, the base 3.7-liter V6 is EPA-rated at 17/25 mpg City/Highway, or 20 mpg Combined. All-wheel drive drops the estimate to 16/23 mpg City/Highway, or 19 mpg Combined.
The more powerful twin-turbo V6 is slightly more fuel-efficient, EPA-rated at 18/25 mpg City/Highway, or 20 mpg Combined. All-wheel-drive lowers that estimate to 17/24/19 mpg. Both engines use regular-grade gasoline.