2018 Lexus LS 500 Introduction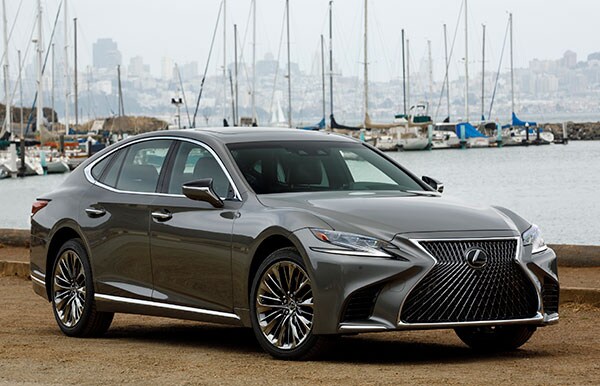 All new for 2018, Lexus LS has been totally redesigned. The new Lexus LS 500 is related to the recently launched LC coupe. Stressing unabashed luxury, the all-new Lexus LS echoes the model that first challenged German automakers with a top-level luxury car from a Japanese marque.
Lexus fills its top sedan with opulent details, such as crystal trim, while edging into fresh design territory. Rather than near-silence, LS buyers can opt for simulated engine sounds. A new 10-speed automatic transmission goes into the gas-engine LS 500, while the LS 500h hybrid gets an ingenious CVT/4-speed transmission.
Built upon a stretched version of the LC coupe platform, the LS 500 is slightly longer than its predecessor, more tapered, with broader glass area. Fractionally lower, it promises improved weight distribution. It is not intended to be as sporty as the LC, focusing instead on luxury.
A short-wheelbase model is no longer part of the LS picture. Also gone is the previous V8 engine, thrust aside by a new twin turbocharged V6.
Three versions are available: LS 500 with rear-wheel drive or all-wheel drive; LS 500 F Sport; and LS 500h hybrid.
The new 3.5-liter twin-turbo V6 generates 416 horsepower and 442 pound-feet of torque, working with the new 10-speed.
The LS 500h hybrid mates a 3.5-liter V6 mates with two electric motors, for total combined output of 354 horsepower. A uniquely developed 4-speed transmission blends with a continuously variable unit. One electric motor propels the sedan at low speeds. A second motor adds power at higher speeds. Paddle shifters are included, and the 4-speed/CVT provides 10 forward speeds.
Located beneath the back seat, the 44-kWh lithium-ion battery pack generates 1.1 kilowatt-hours of power. The LS 500h can operate on battery power, but for no more than a couple of miles. Acceleration to 60 mph takes just 5.1 seconds with rear-drive.
Neither the National Highway Traffic Safety Administration nor the Insurance Institute for Highway Safety has crash-tested the LS sedan.
A group of valuable safety features is standard, including forward-collision warning with automatic emergency braking, lane-departure alert, adaptive cruise control, and automatic high beams. The driver can set lane- and speed-control, then remove hands from the steering wheel for 5 seconds.
An optional Advanced Safety package adds pedestrian detection with active steering and front cross-traffic alert.