2018 Lexus LS 500 Driving Impressions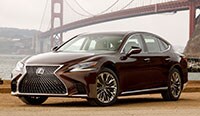 Ride control is especially good in the F Sport's continuously adaptive setup, permitting little body lean when cornering. Run-flat tires on the F Sport results in a rumbling ride and bounding over some bumps. Through long undulations, in contrast, the air springs yield pleasurable softness. The steering lacks precision as well as feel and weightiness. However, road manners are excellent, overall, with the adaptive setup.
Rear-wheel steering on the F Sport reduces the turning circle, easing maneuverability. The driver can select Eco, Normal, Comfort, Custom, Sport, or Sport+ mode. When in Sport or Sport+ mode, amplified engine sounds are pumped into the cabin.
Acceleration to 60 mph in an LS 500 takes just 4.6 seconds. Lexus claims the 10-speed transmission shifts as promptly as a dual-clutch unit.
The hybrid performs nearly as well as the gas-engine model and handling differences between the LS 500 and LS 500h are barely discernible. The amplified engine noise is more bothersome in the LS 500h, however.
Because LS sedans are heavyweights, gas mileage inevitably suffers, but the hybrid should be quite thrifty. The EPA has not yet issued fuel-economy estimates. Lexus predicts the rear-drive LS 500h hybrid will earn about 28 mpg in combined city and highway driving. For the standard LS 500, Lexus predicts 23 mpg combined.