2018 Lexus LC Walk Around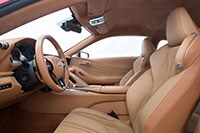 The LC 500 first appeared as a concept car at the 2012 North American International Auto Show in Detroit. It's hard to believe that its futuristic styling is more than five years old, but the car industry is like that, designers are dreamers. At that time, Lexus had no plans to build the car, but the raves from spectators changed the manufacturer's mind. Like a lot of show-goers, we think it's the most beautiful Lexus ever made, a sculptural tour de force. Though there is that big grille.
It's hard to call any shape original, but there isn't anything quite like the LC 500. It has a pinched tail that's slightly erotic like the Jaguar F-Type, and some retro reflections of the Alpine-Renault GTA in the profile and side glass. The roof rides like the canopy of a fighter jet. The LED taillamps are like jewels leaving the scene of a stolen show.
Interior
The cabin's trim is handsome, the leather stitched like an unfolding blossom. It's available in brave colors like Rioja Red, or another one that's a three-tone blue, white and orange. The seats flow in organic waves, actual ribs that add support for the passengers that get cupped into place. Still, we wonder where all the lumbar support went. Maybe the same place as the small storage cubbies. Not the most comfortable driver's seat.
The feel of the interior is angular, under a glass roof that startles. The horizontal dashboard forms a tall, wide wall that manages to separate the driver from the front passenger and steal knee room. The instrument panel suggests a desire for ultimate control, with many roller wheels, toggles, stalks, and touchpads that steal from any sense of tranquility.
The infotainment interface is dreadful, from the mouse to the display on the 10.3-inch split screen, while the Remote Touch interface is too remote. It's difficult to use even at low speeds, so reliance on the steering-wheel controls is inevitable. The system is among the least useful and most distracting systems we've ever used.
The optional sound system has awesome clarity, by Mark Levinson, 915 watts and 13 speakers. The standard audio system is crisp but lacks the depth that an audiophile desires.