2018 Lexus LC Driving Impressions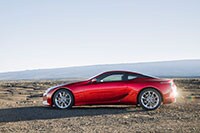 Our first impression of the LC 500 on the road is of a large, heavy coupe. It feels heavy while cruising, the 5-liter V8 burbling along, reminding us of a time long ago in a '71 Mustang with a 351 Cleveland. The throaty bark of the Lexus V8 is amplified and piped into the cabin. The transmission shifts slowly and the drivetrain lacks the crisp responsiveness of a sports car.
The V6/electric LC 500h accelerates nearly as quickly as the V8, but it doesn't come close to matching the sound, which is artificial, because the hybrid uses a synthetic soundtrack. But it's unnatural, buzzy and too loud.
The chassis combines steel, aluminum, and carbon fiber to be very stiff, which creates beautifully composed handling. Indeed, the Lexus LC 500 feels taut and precise on curvy roads. The multi-link suspension and adaptive shocks work harmoniously with the electric power steering, the optional staggered-width 21-inch Michelin Pilot Sport tires, and huge disc brakes.
The Lexus LC is no lightweight, weighing 700-800 pounds more than a Chevrolet Corvette or Jaguar F-Type. That substantial mass makes the LC more luxury GT than sports car.
Yet, it's edginess and sportiness prevents it from being a cushy luxury car. It responds best to an alert, engaged driver.
There are four drive modes, Eco, Comfort, Sport and Sport Plus.
The suspension is supple, although less so with the 21-inch tires. The electric steering gets two degrees of active rear steering, enabling it to rotate in a corner with the fluency of a Cadillac ATS. The brakes seize the moment, stopping hard and quick.