2018 Lexus GS Introduction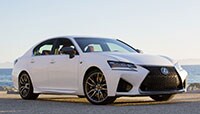 The Lexus GS is a rear-wheel-drive sports sedan, not to be confused with the Lexus ES front-wheel-drive near-luxury family sedan. It competes with the Mercedes-Benz E-Class, BMW 5 Series, Audi A6, and Infiniti Q70. It was last redesigned in 2013. Changes for 2018 are minimal.
However the newest model, the 2.0-liter turbo introduced for 2017, gets its name changed from GS 200t to GS 300. And the GS 350, with a V6, gets five more horsepower. Also the Enform safety connect and service connect features come free for ten years.
The 2018 Lexus GS 300 2.0 turbo makes 241 horsepower and 258 pound-feet of torque, and is mated to a paddle-shifting eight-speed automatic transmission. It can accelerate from zero to 60 in 7.2 seconds, which isn't so quick for a sports sedan, but the paddle-shifters help the kickdown response. It gets good fuel mileage, which is the reason it was introduced into the lineup: an EPA-estimated 29/34 mpg City/Highway, 31 mpg Combined. But GS 300 requires Premium fuel, so there goes the savings. So do all the other GS models, including the hybrid.
The 2018 Lexus GS 350 feels more like a sports sedan, with its 3.5-liter V6 having direct injection, variable valve timing, and making 311 horsepower; it too uses the paddle-shifting eight-speed automatic. All-wheel drive is available with the GS 350, but that uses an older six-speed automatic. The GS 350 shortens the zero-to-sixty time to 5.7 seconds, but sucks the fuel consumption down to 23 Combined miles per gallon.
The GS 450h hybrid with rear-wheel drive is two-tenths quicker to 60 mph than the GS 350, while getting the same 29/34/31 mpg as the GS 300. Its speed comes from an Atkinson-cycle version of the V6, mated to a 147-kilowatt motor and 30-kilowatt nickel-metal-hydride battery pack, for a total of 338 horsepower, with and 257-pound feet of torque. The downside is it doesn't have sporty handling, and any other sportiness it might have is stolen by its continuously variable transmission.
The GS F Sport brings the sporty. The F Sport package is available with every model, and features a sports suspension along with sportier exterior and interior trim, and upgraded features. A GS F Sport might compete with the Acura RLX Sport Hybrid SH-AWD.
If the F Sport isn't enough, there is the GS F that competes with the BMW M5, Mercedes-Benz E63 AMG, Cadillac CTS-V, and Audi RS 7. It uses a 5.0-liter V8 making a 467-horsepower and 389 pound-feet of torque, to accelerate from zero to sixty in a fairly blistering 4.5 seconds. With both direct injection and port injection, and using both the Otto and Atkinson cycles, it gets 19 miles per gallon Combined. That might not sound like much, but for 467 horsepower it's impressive.