2018 Land Rover Range Rover Introduction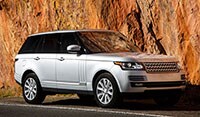 We've driven this generation of Range Rover in a Moroccan gale, over the Spanish steppes, and in miserable Atlanta traffic. Its composure has never lagged: always calm, cool, and collected.
For 2018, the sixth year for this design, Range Rover finally gives in and goes along. Two big touchscreens with flashy technology replace most of the hard buttons, switches and knobs.
Other 2018 changes include revised LED headlamps, more adjustment for front seats with optional massage function, and redesigned rear seats with exceptional comfort for outboard passengers, with long-wheelbase versions adding 7.3 inches of legroom, making the Range Rover feel like an SUV limo.
The Range Rover rides like a tall sedan, while being renowned for its offroad capability, with up to 12 inches of ground clearance and Land Rover's effortless Terrain Response system, using four modes with sensors dictating traction. Meanwhile it can tow 7700 pounds of horses or boats, even racecars.
The entry-level Range Rover has a short wheelbase. The lineup moves steeply to opulence, with HSE, Supercharged, Autobiography, and SV Autobiography Dynamic models.
Every Range Rover is all-wheel drive, and uses a sharp paddle-shifting 8-speed automatic transmission built by ZF. Several engines are available. An all-aluminum supercharged V6 comes standard, making 380 horsepower and 332 pound-feet of torque. It's EPA rating is 17 mpg City, 23 Highway, or 19 Combined.
Then there's a 3.0-liter V6 turbodiesel, making 254 horsepower and a bulging 440 foot-pounds of torque. It's the best choice for towing. It gets an EPA-estimated 24 miles per gallon Combined, with a range of more than 600 miles, and can accelerate from 0 to 60 mph in a quick 7.4 seconds.
A supercharged 5.0-liter V8 making 510 or 557 horsepower comes on Range Rover Supercharged models. Both the 510-hp version and 557-hp get 14/19/16 mpg.
As with many luxury vehicles, federal and insurance industry crash-testing hasn't been done on the expensive Range Rover. However the unique aircraft-like structure, bonded and riveted aluminum, is exceptionally stiff, and the safety equipment both standard and optional is bountiful. Every 2018 Range Rover comes with automatic emergency braking, lane-departure warnings, parking sensors, and a rearview camera. Adaptive cruise control and blind-spot monitors are fitted to HSE and higher trim levels.