2018 Land Rover Range Rover Evoque Introduction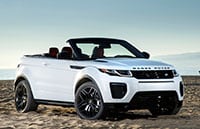 The Range Rover Evoque is a unique car, tiny yet sophisticated, luxurious and stylish. For the mountain traveler, it offers four-wheel drive and offroad capability, sort of an offroad sports car.
It's small for an SUV, and light, at only 3600 pounds. So the handling is nimble.
For 2018, Evoque gets a new engine to go with its smooth 9-speed automatic transmission, as well as some new available trim.
The 2018 Evoque comes in two body styles: as a five-door SUV or a two-door convertible sports car/SUV. The three-door coupe has been dropped.
Evoque doesn't have any exact rivals, due to its small size. It's closest to the BMW X1.
The 2018 Evoque replaces the previous Ford-built engine with one built by Jaguar Land Rover. Like the Ford engine, it's a turbocharged 2.0-liter four cylinder making 237 horsepower (compared to 240 hp). But now there's also a more powerful version with more turbo boost, making 286 horsepower.
Evoque comes standard with what Land Rover calls Active Driveline, with active differentials and torque vectoring. The system decouples the rear wheels above 22 mph, and re-couples them within 300 milliseconds whenever drive is needed from the rear. For rugged terrain, All-Terrain Progress Control makes the vehicle crawl at any slow speed the driver sets, so the driver can focus on steering around rocks or trees or whatever. In addition to all-wheel drive, Evoque comes with hill descent control and trailer stability assist.
The Evoque is wildly more capable offroad than most could imagine. On the road, it is composed, with an easy ride. The convertible looks sporty but it's no sports car.