2018 Land Rover Range Rover Velar Walk Around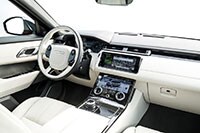 Simply stunning, the Range Rover Velar sets a new benchmark for design of a modern SUV. Few would deny that it's one of the best-looking SUVs; if not Number One.
Evolved from Jaguar's F-Pace, the cleanly profiled Velar shies away from superfluous curves, omits door handles, and holds back on decoration. Up front, the hood seems unusually long. An uninterrupted character line extends back from the headlights.
Designers maintained a pinpoint focus on basic proportions. As a result, the Velar is the most aerodynamically efficient vehicle in Land Rover's history.
Interior
If the Velar's exterior represents a narrowed focus, its cabin takes an opposing path, emphasizing expressive lines, colors, and detail work. Sleekly modern, it's one of Range Rover's prime examples of interior opulence.
Leather covers most Velar seats, but optional premium grey textile (cloth) upholstery exudes an even greater sense of refined quality. Brushed aluminum accents and a leather-covered upper dashboard add to the premium aura. The base model uses synthetic leather and suede, but every Velar feels expensive.
Otherwise understated, the central console holds twin 10-inch infotainment touchscreens. Upper trim levels add a 12.3-inch digital instrument cluster. The infotainment system not only looks great, it responds well, despite lacking Apple CarPlay and Android Auto.
Front seats promise comfort during the longest drives. Rear seats are reasonably comfortable for most riders, but short on legroom for taller passengers. With rear seatbacks upright, cargo volume totals 34.4 cubic feet, expanding to 70.1 cubic feet with those seats folded down.