2018 Land Rover Range Rover Velar Introduction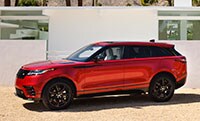 Introduced for 2018, Range Rover Velar follows a fresh design path and winds up as a stunning rendition of the authentic SUV. A sleek, gorgeous shape reveals a long hood, sloping roofline, and big open wheel arches. Its designer even omitted door handles, which might detract visually from the gracious body lines.
Gambling on uncommon beauty, inside and out, Land Rover hit a home run with Velar, creating a new benchmark in the luxury SUV category. Rugged, offroad-ready hardware, lets the new Velar live up to Land Rover heritage and its record of rough-country dominance.
A midsize luxury SUV, Velar is smaller than Land Rover's Range Rover Sport but larger than the Evoque. It shares powertrains and a similar structure with the new Jaguar F-Pace.
Velar comes standard with a turbocharged 2.0-liter four-cylinder that develops 247 horsepower and 269 pound-feet of torque.
Stepping up on the performance scale, a supercharged 3.0-liter V6 whips up 380 horsepower and 332 pound-feet. The supercharged V6 is paired with an adjustable, highly capable air suspension. The adjustable setup can raise or lower the Velar by as much as 3 inches, up to total ground clearance of 9.9 inches.
Land Rover also offers a turbodiesel four-cylinder option. Particularly adept off-road, the diesel generates 180 horsepower and a brawny 317 pound-feet of torque, available at low engine speeds. The fuel-efficient turbodiesel yields up to 30 mpg in highway driving.
Each engine mates with an 8-speed automatic transmission and all-wheel drive. Velars are rated to tow up to 5,500 pounds with a V6, or 5,200 pounds with the turbo four.
Range Rover offers five trim levels: standard, S, SE, HSE, and the limited-production First Edition. All three engines are available in S, SE, and HSE trim, but that standard version comes only with the gasoline four-cylinder and the First Edition is V6-only. Only 500 First Editions are to be built.
All Velars come with automatic emergency braking, a rearview camera, and lane-departure warning. R-Dynamic trim levels add blind-spot monitoring, drowsy driver monitoring, traffic sign detection, and adaptive speed limiter. R-Dynamic HSE includes adaptive cruise control, blind-spot assist, and lane-keep assist.