2018 Land Rover Range Rover Velar Driving Impressions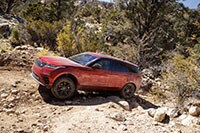 All three engines supply sufficient power, though they're not especially refined. The supercharged V6 propels the Velar to 60 mph in 5.3 seconds, an impressive performance, but it doesn't feel that swift.
Acceleration to 60 mph takes only a second longer with the gasoline turbo four, which doesn't emit a confident note when pushed. Passing demands some planning ahead.
Despite abundant sound-deadening material, even the V6 doesn't sound satisfying when accelerating hard. Picking the turbodiesel costs only $1,500 additional, though its economic value is most notable in long highway trips.
Behaving willingly but unobtrusively, the 8-speed automatic blends into the background. Slight hesitation might stifle downshifting to pass, with the four-cylinder engine. Paddle shifters help.
While steering accurately and confidently, the Velar provides limited feel through the steering wheel. Even in Sport mode, electric power steering feels somewhat artificial.
Big tires translate to a relatively rough ride. Picking tires no bigger than 20-inch is a sensible compromise, but a V6 version with its adjustable suspension might be wiser yet.
Off road, Velar performs as expected of a Land Rover, extremely well, in other words.
Neither Velar nor its rivals qualify as frugal. V6 versions are EPA-rated at 18/24 mpg City/Highway, or 20 mpg Combined. Gasoline-powered turbo-four models rate higher: 21/27/23 mpg. Turbodiesel models are the most efficient, EPA-rated at 26/30 mpg City/Highway, or 28 mpg Combined.