2018 Land Rover Range Rover Sport Driving Impressions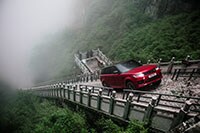 The supercharged 3.0-liter V6 is quick and responsive. It comes with 340 horsepower in SE and HSE, and 380 hp in HSE Dynamic. In the SE it will accelerate from zero to sixty in 6.9 seconds.
The turbodiesel V6 is only a hair slower, gets five more miles per gallon, and brings bulging torque of 440 pound-feet. And it's quiet. Range Rover Sports (except SVR) are rated to tow up to 7,716 pounds, and the turbodiesel is the engine for the job.
The supercharged V8 makes the Sport flat fast. With 518 horsepower and 461 pound-feet of torque, it can accelerate from zero to sixty in less than five seconds, and with 575 hp in the SVR it knocks that down to 4.3 seconds. The SVR is loud and brash, sounding ready for the track. On the road it's fully composed in curves, and turns long hours driving into comfortable excursions.
As for off-road prowess, the Sport can cross creeks that are up to 33.5 inches deep, scamper over rocks, then blaze through sand or mud. Ground clearance of 9.3 inches, coupled with wheel travel greater than 10 inches, ensures rough-terrain readiness.
Terrain Response 2, standard with V8 power and optional for the V6, provides seven modes for almost any surface (including Automatic), working transparently to deliver the greatest amount of traction. Rather than merely capable, the Range Rover Sport is among the easiest vehicles to drive under tough conditions.