2018 Kia Cadenza Walk Around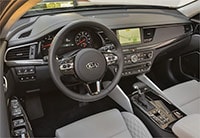 Few might call the Cadenza daring or audacious, but the design is pleasant enough, and even a bit interesting. Such details as LED lighting and a mildly concave grille up front provide a dash of liveliness, as well as a sense of character.
For a full-size four-door, the Cadenza neatly incorporates some styling cues that suggest a sport sedan. Most notably, this front-drive sedan veers emphatically away from the formal lines that identify the larger K900 model, which comes across as somewhat dowdy.
Base-model (Premium) Cadenza sedans have their own grille, whereas the front ends of Technology and Limited editions convey a stronger appearance. Upper models get LED headlights and foglamps, and ride on distinct 19-inch wheels, versus 18-inch for the base sedan. All models feature LED positioning lights.
Interior
With its wing-shaped dashboard layout, the Cadenza cabin has a familiar, rather predictable feel. Some might call it sedate, but the look is wholly modern. When trimmed in Nappa leather, though, it's especially welcoming. The Limited sedan gets rather flashy stitching on its leather.
Materials quality and detail work stand above the pack. Basic-level plastics are limited to lower door panels and trunk liners. Nothing about the interior suggests the thrifty overall feel of some Kia economy cars.
Controls consist of actual knobs and buttons, grouped around the central touchscreen. They help make the Cadenza an easy car to operate. A considerable amount of sound-deadening materials ensures quiet cruising.
Five adult passengers can fit inside without notable discomfort, helped by a large back seat. Headroom and shoulder space are just fine, though clearance for taller occupants might be affected by the panoramic sunroof. The long roofline helps provide abundant head space in the back seat, while legroom can seem almost limousine-like.
Front seats are sufficiently supportive, without excessive firmness. Multiple seat adjustments are standard in all Cadenzas. Driver's seats in Technology and Limited versions include a powered leg bolster that slides out, to give taller drivers better support. Kia's simple infotainment system works nicely.
Among the biggest in its class, the Cadenza's trunk holds 16 cubic feet. Small-item storage is very good, in the console as well as door pockets.