2018 Kia Cadenza Driving Impressions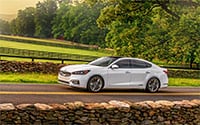 Cadenza riders can expect a quiet, even hushed, experience, with a powertrain that's barely noticeable. Far from stiff, the ride supplied by Kia's independent suspension is calm and relaxed.
Ride and handling are effectively coordinated. Though the driver might feel somewhat isolated, road feel never gets sloppy in nature.
Handling cannot be called crisp, but it's well-composed, if a bit cushiony. Steering is somewhat heavy for a big car, but brakes respond well and are easily modulated. Body lean in corners is moderate, and body motions are well-controlled.
While the Cadenza might resemble a sport sedan, performance doesn't quite warrant that designation, though it reaches above average for the class. With its 8-speed automatic, the Cadenza responds promptly. Low-end vigor isn't the strongest, but the sedan enters traffic flow without hesitation. Downshifts to pass or merge occur quickly.
Comfort, Eco, Sport, and Smart modes may be selected, but differences are modest. Each mode alters steering and throttle response, but doesn't affect the suspension, which is tuned for ride comfort.
Despite the use of an 8-speed automatic, fuel economy ranks as so-so. The Cadenza is EPA-rated at 20/28 mpg City/Highway, or 23 mpg Combined.