2018 Jaguar XF Driving Impressions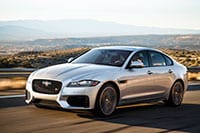 Strong V6 power and taut, supple handling combine to provide thoroughbred sports sedan dynamics. The XF has communicative steering, excellent transmission shifts, and a highly composed ride. Acceleration to 60 mph takes about 5.0 seconds (5.3 in the Sportbrake).
Turbodiesel sedans start off eagerly, delivering potent torque though a narrow engine-speed range.
Ride/handling characteristics cooperate expertly. Dead-even 50/50 weight balance helps give the XF a neutral feel when cornering, as well as compliant behavior. Steering is accurate if lighter than in some rivals, with moderate body lean. Yet, the XF always feels well-controlled.
Superior ride quality is further enhanced on models with adaptive dampers, permitting casual confidence on any road surface.
As expected, the turbodiesel is the fuel-economy champ, EPA-rated at 31/42 mpg City/Highway, or 35 mpg Combined. All-wheel drive lowers the estimate to 30/40/34 mpg.
The gasoline turbo four is EPA-rated at 25/34 mpg City/Highway, or 28 mpg Combined. Mileage dips to 23/33/27 mpg with all-wheel drive.
Jaguar's supercharged V6, in the S sedan, is EPA-rated at 20/29 mpg City/Highway, or 23 mpg Combined with rear-drive; or 20/28/23 mpg with all-wheel drive. Sportbrake wagons are EPA-rated 18/25 mpg City/Highway, or 21 mpg Combined.