2018 Jaguar XE Walk Around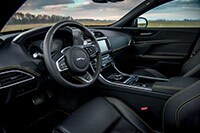 The sculpting is subdued and subtle. The XE doesn't turn heads but its looks are seductive. Jaguar designer Ian Callum says he pared it "down to the bare essentials," and had in mind "less is more."
The sheetmetal is tight. The proportions are sporty, with a short nose, wide stance, and fenders full of wheel and tire. Jaguar's new signature grille distinguishes the front end, and the wide horizontal LED taillights emphasize the car's width and muscular haunches.
Interior
The time of Jaguars being known for having cabins of walnut, maple, and rich-smelling leather is past. The cabin of the XE tries to keep up with its elegant ancestors by having infotainment and driver assistance. There is irony there. We're not sure the ancestors would be impressed.
The cabin is well-constructed and under-styled. The dashboard has one broad line, a simplicity that stands against some rivals' busy ups and downs. Available gauges offer an electronic interpretation of the classic analog tachometer and speedometer, with a modern info display between them. The grippy leather-wrapped three-spoke steering wheel holds a number of controls.
The touchscreen at the center of the instrument panel opens infotainment and connectivity. In any car, being precise with the touching can be tricky when the car is in motion, and the XE is no different. The climate controls, located just below the screen, are easy to operate, as are the switches for the heated seats. But the door and window buttons are upside down and anti-intuitive; the window control is high, and door lock low, should be the other way around.
The responsive standard touchscreen is 8.0 inches (measured diagonally), with Bluetooth audio and USB port. The InControl Pro is 10.2 inches, with a 12.3-inch virtual gauge cluster, as well as full-screen navigation, SD card slot, WiFi hotspot, and remote vehicle control features via a mobile app. We suffered interrupted Bluetooth streaming, stiff radio toggles on the steering wheel, thin sound from the Meridian audio system, and no Apple CarPlay or Android Auto.
The perforated leather is so nice it makes us not miss the rich leather of yesteryear. The navigation system with InControl Pro is slow and a bit labyrinthine, as if the system is in control, not you. The circular gear selector, pioneered by Jaguar, has a chrome top that gets painfully hot in direct sunlight.
The front seats are worthy of a sports sedan, bolstered and padded well while being long-haul comfortable. The base trim is a nice synthetic leather, with heating and cooling optional.
In the rear, entry and exit is unsmooth because of awkwardly shaped door sills, and comical because of small footroom in the door opening that's narrow on bottom. Headroom is tight and legroom lacking, and the center rear seat is only fit for small children or adults you don't like, same as rivals.
The trunk is a reasonable 15.9 cubic feet, shaped well for utility.