2018 Jaguar XE Driving Impressions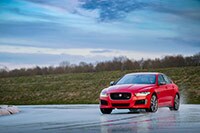 We got some of our seat time at the XE launch in Aspen, Colorado, elevation 8000-10,000 feet, where thin air robs power. But the 20d turbodiesel never hesitated; it was smooth, quiet and well-matched with the 8-speed transmission. We didn't get to drive an XE with the new 2.0-liter turbocharged engine, but it too will likely handle the mountains, because that's what turbos do.
The XE feels graceful and fluid, with handling that rivals the best among luxury compact sports sedans, including the Cadillac ATS-V and some BMWs. The XE's electric power steering is perfectly weighted, and the ride is perfectly damped. The chassis feels planted and consistent at speed, with abundant adhesion and hardly a hint of body roll. The standard suspension isn't harsh, with tires that smooth the edges of the road. The connection between car and river is powerful and gratifying.
If that's not enough, the XE S model uses adaptive dampers that make this baby dance.
The S model's supercharged 3.0-liter V6 also gulped the thin air, turning it into blown power from the supercharger. It can sprint from zero to sixty in about 4.5 seconds, quick for the class. It would be even quicker if automatic transmission could keep up, but it's not as quick as it should be to handle 380 horsepower.
Kickdowns come a bit slowly, on their own in Auto mode. Downshifts as well as upshifts happen more quickly in Manual mode, using the steering-wheel paddles.