2018 Jaguar F-Type Introduction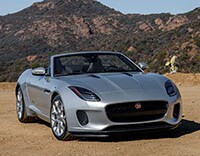 The 2018 Jaguar F-Type line was expanded with additional powertrain choices, and the styling was revised with four distinct front bumpers to distinguish models.
For 2018, F-Type is available with six engines: among them a new turbocharged 2.0-liter four-cylinder making 296 horsepower; three supercharged V6s with 340, 380 and 400 horsepower; and the supercharged V8s, called the R and SVR, with 550 and 575 horsepower.
A Jaguar F-Type is a great alternative to a Porsche or Corvette, and the F-Type R is one of the best sports cars on the road today. Available as coupe or convertible, the coupes are particularly handsome and are the best expression of the design, with a plunging rear that evokes the original 1962 E-Type coupe.
This is the fourth year for the Jaguar F-Type, which came out of the box as a true-blue sports car, and distinctly Jaguar, with character. F-Type comes as a coupe or convertible, with all-wheel drive or rear-wheel drive.
The new turbocharged four-cylinder is mated to an 8-speed automatic, while the supercharged V6s are mated either to a 6-speed manual or the 8-speed automatic, with all-wheel drive available. The F-Type R and SVR are both all-wheel drive, and go with an 8-speed automatic.
The turbocharged four-cylinder model keeps the price of entry low while propelling the F-Type from zero to 60 mph in just 5.4 seconds. The popular 3.0-liter supercharged V6 with 340 horsepower can accelerate from zero to sixty in 5.1 seconds and hit 161 miles per hour. Next is the F-Type S with the same engine making 380 horsepower that can accelerate from zero to sixty in 4.8 seconds and can reach a top speed of 171 miles per hour. The 400-hp V6 is a bit quicker. The V6 models sound a little coarse under acceleration, with the whine of the supercharger subdued to the point where it's drowned by engine noise.
The F-Type R uses a 5.0-liter supercharged V8 making 550 horsepower that accelerates from zero to sixty in 3.9 seconds, with a top speed of 186 miles per hour. Optional sport exhaust makes it sound throaty, like a giant telephone book being ripped apart on acceleration, popping like fresh popcorn on deceleration.
The F-Type SVR makes 575 horsepower and 516 pound-feet of torque, dropping the 0-60 time to 3.5 seconds and raising the top speed to 200 miles per hour. There's lots of carbon-fiber trim, and a titanium exhaust system makes the engine downright raucous. Its suspension and steering are tuned for performance, while carbon-ceramic brakes are available. It needs a track to be pushed.
The 8-speed automatic transmission with paddle shifters is just about the best automatic we know (that isn't a twin-clutch). If you must have an old-school manual gearbox, you'll have to stick to the base 340-hp F-Type with rear-wheel drive. It's good but the sweet automatic shifts faster and gets better fuel mileage.
The new turbo-4 base engine is EPA-rated at 23 mpg City, 30 Highway, 26 Combined. The 340-hp V6 with 8-speed automatic rates 19/27/22 mpg, or 1 mpg less with all-wheel drive. The 6-speed manual brings it down to 16/24/19 mpg. F-Types with the 5.0-liter supercharged V8 get 15/23/18 mpg, with either 550 or 575 hp. All the engines require Premium gasoline.