2018 Honda Ridgeline Walk Around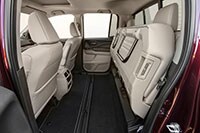 The styling changed for 2017, because that first generation was too original and radical to be accepted the way Honda wanted it to be. There was sales resistance. The current four-door crew cab Ridgeline looks more like a truck, including the grille that is recognizably Honda, unlike the first Ridgeline.
It still looks like a car, though. The Chevy Colorado is a better-looking truck for truck lovers.
The Ridgeline is 210 inches in length, on a wheelbase of 125.3 inches.
With a cargo bed that's 64 inches long, the plywood fits with the tailgate dropped. The tailgate is hinged at the side as well as the bottom, so it opens like a door to make loading easier; and it locks to create a huge in-bed trunk, when it's equipped with a bed cover. (Other trucks do this with traditional dropping tailgates.)
A 400-watt power inverter can power a big screen TV in the bed, with another option of six speakers integrated in the cargo bed walls. Equipped this way, the Ridgeline can be the ultimate tailgate party special.
Interior
The Ridgeline is abundantly roomy, as crew cab only, no regular or extended cab versions. There's plenty of leg, head, and hip room in for all three passengers in the rear. The rear seats fold to create cargo space that Honda boasts is best in class, for full-size crew cab pickups.
The interior materials are high quality, while the front seats are comfortable all day, with a relaxed fit. The sound systems range from good to excellent.
The controls that are actual knobs are attractive, straightforward and intuitive, no manual required to figure them out. The touch controls on the big screen at the center of the dash have large icons, but they aren't so simple, including, maddeningly, the audio adjustment, an old Honda challenge. That said, the navigation system is fairly easy to function, and the infotainment and connectivity options, which now include the choice of Apple Car Play or Android Auto, are contemporary.