2018 Honda Ridgeline Introduction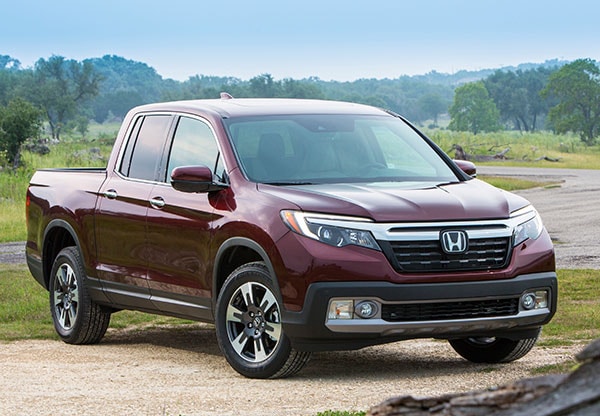 The unique Honda Ridgeline came back redesigned for 2017, after its first generation ended with discontinuation in 2014. It's mechanically unchanged for 2018, just some package and trim tweaks. (A refined version is being launched for 2019.)
What makes Ridgeline unique is that it's technically a crossover; that is, the body is integrated with the chassis, like a car. It isn't bolted onto the frame, like every other pickup truck in the world.
A body-on-frame design is more rugged, so it's better for the demands a truck usually encounters, but it's heavier and less rigid. The mid-size Ridgeline uses the platform of the full-size Honda Pilot SUV, so it rides and handles more like a crossover SUV than a truck. And the current-generation Ridgeline has 28 percent more torsional rigidity than the previous generation.
Ridgeline front-wheel drive, with available all-wheel drive.
Rivals like the Chevy Colorado and GMC Canyon are quite civilized, but in terms of ride quality, quiet operation, and general comfort, the Ridgeline is tops. Honda says it has the roomiest cabin in its class.
The engine is also the same as the Pilot's, a 3.5-liter V6 with 6-speed automatic transmission. It was increased in power in 2017, to 280 horsepower with 262 pound-feet of torque. The acceleration is adequate but can be challenged when towing.
Fuel mileage is solid, at 19 mpg City, 26 Highway with front-wheel drive, and one less mpg with all-wheel drive.
The Ridgeline also grew a bit with its redesign; unlike before, it now can hold a sheet of plywood that's 48 inches wide in the bed, with a payload rating of 1584 pounds. It's rated to tow 5000 pounds with all-wheel drive, or 3500 pounds with front-wheel drive.
If towing or hauling are priorities, however, the Chevy Colorado and GMC Canyon, both offer the option of diesel power, with more torque.