2018 Honda Ridgeline Driving Impressions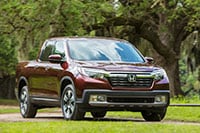 The Ridgeline is a very smooth operator, composed and compliant on all surfaces from bumpy paved to graded gravel. It's hard to find flaws in the driving dynamics. The steering could have a bit more weight and provide more feedback, but the same could be said of any contemporary truck with electric power steering. All-wheel drive Ridgelines include torque vectoring at the rear axle, lending stability in corners, especially when traction is reduced by the road surface.
The unibody structure feels exceptionally solid, and the suspension is a little firmer than on the Pilot in order to handle a truck's payloads, but that firmness doesn't diminish the ride.
Acceleration performance is respectable but not thrilling. Its weight of about 4500 pounds is a lot for 280 horsepower to pull. The towing capacity of 5000 pounds with all-wheel drive, 3500 pounds for front-wheel drive, is near the bottom of the list of midsize pickups.
Available safety features include adaptive cruise control, autonomous emergency braking, lane departure warning and lane assist. The lane departure feature is a little too eager to assert itself, jiggling the steering wheel when the truck's trajectory even slightly heads toward a painted line at the edge of the road. That would be the apex of any curve. On a winding two-lane road, as with every such system we've ever experienced, the false alarms are constant. All they do by crying wolf is destroy their own credibility.