2018 Honda HR-V Introduction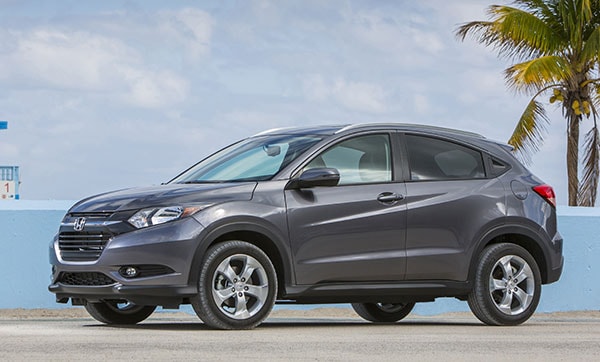 The Honda HR-V is subcompact crossover back for its third year, with only changes to the wheels and paint colors for 2018. It's based on the versatile and economical Honda Fit, and is slightly smaller than the CR-V. lt looks sportier than the CR-V and more SUV-like than the wedge-shaped aerodynamic Fit.
There is one engine, a 1.8-liter four-cylinder that makes 141 horsepower and 127 pound-feet of torque. Front-wheel drive is standard, while all-wheel drive is optional with the continuously variable transmission (CVT). A six-speed manual transmission is available, but the vast majority of HR-Vs use the CVT.
The HR-V is comfortable to drive, and it can be fun, but it isn't sporty. Its strengths are versatility and economy, like the Fit only different, because the Fit isn't considered a crossover. Competitors include the funky Fiat 500X, sporty Mazda CX-3, and Chevrolet Trax, which shares a platform with the upscale Buick Encore.
The CVT gets better gas mileage than the manual transmission, but it offers no excitement. It gets an EPA-rated 31 Combined miles per gallon with front-wheel drive, or 29 mpg with all-wheel drive. That pretty much ties it for best in class with the Mazda CX-3.
The cabin is clean and well organized, with a nice center stack with an optional big display. The roofline is curved for more headroom. The rear passengers have plenty of hip and legroom.
The HR-V steals the popular features of the Fit, like the fold-flat 60/40 rear seat, and the Magic fold-flat front seats. A flat cargo space behind the front seats, and a dropped front seatback, makes it like a minivan. With all-wheel drive and a roof rack, it'll do anything.