2018 Honda Fit Walk Around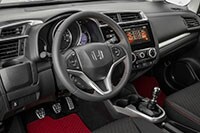 The Honda Fit is five inches taller than the Honda Civic sedan, and has a long roofline with ample glass, so it looks more like a boxy wagon with a wedge-shaped nose, than a squat hatchback.
At 60 inches to the roof, it's one of the tallest subcompacts on the market.
The Fit is not sleek like the Ford Fiesta, but it's attractive and eye-catching (especially in white) in its angular way. The windshield is nearly as steep as the short nose. A sharp character crease low on the sides exaggerates the length. The rear end hints Volvo, with long vertical taillamps that drop from the liftgate to the bumper. A big chrome bar runs across the back, in contrast to the otherwise cohesive styling.
Interior
The look and feel of the interior may not be impressive, but the space and flexibility are unrivaled.
The rear seatback drops down and the rear seats flip up, to create relatively vast cargo space, from an event called Magic Seat, with four cargo/seating arrangements. A Refresh mode tilts the rear seatbacks like a lounge chair. The front passenger seat in Long mode also can fold flat, wonderful for sports equipment or construction materials. A whole bicycle or small kayak can fit in the cargo area, something that's not possible with many crossovers. A small tree or living room lamp can stand behind the passenger seat.
The front seats are only adequate, with thin cushions that aren't so magic. Long-legged drivers might not fit because the seat doesn't slide back so far. The passenger footwell has an odd shape that cants the seating position.
The rear seat has great legroom and headroom, although the Magic Seat cushion is a bit thin. The tall door openings make entry and exit easy for a subcompact.
The interior materials are durable enough, but not at all luxurious. The carpeting and headliner don't exude quality. The ambitious and busy dashboard feels haphazard, with many angles, shapes, bits and pieces. The small crossover Honda HR-V, based on the Fit, is simpler and more relaxing to the eye and brain.
The Fit is one of the quieter cars in its class, however there's wind noise on the highway coming from around the large sideview mirrors. And there's engine noise at full throttle, suggesting thin sound insulation.