2018 Honda Fit Driving Impressions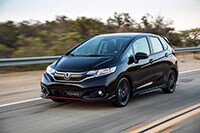 The 1.5-liter engine is peaky, reaching its maximum torque of 115 pound-feet at 4600 rpm, while its sweet spot for zip is about 4000 rpm. That's the far other end of some small-displacement turbocharged engines, that have their torque down low. Those engines are more relaxing to drive because they're responsive even if you're lazy with the throttle.
Redline for the engine is 6800 rpm, making the powerband challenging. Fortunately the paddle-shifting 7-speed CVT is a well-matched transmission that makes downshifting for torque quick and easy. The CVT has a sport mode that quickens throttle response, as well.
The CVT doesn't feel like a big rubber band like so many others; it's way better than the Nissan unit. Honda is trying to make their CVTs indistinguishable from a smooth automatic .
The CVT gets four more miles per gallon than the six-speed manual, 36 mpg vs 32 mpg, an indication of its efficiency.
Meanwhile the standard 6-speed manual transmission is precise and shifts sweet, about the best we've experienced in a subcompact. If you can find one, and if you want to pay 4 mpg for the fun you might have with the manual.
The brake pedal is precise and easy to modulate.
The current Honda Fit is fun to drive, but not as sporty as the first-generation version because it leans more in corners and dives more under braking. Its suspension (front struts, rear torsion beam) is designed for a solid and controlled ride, which it delivers despite its short wheelbase.