2018 Honda Clarity Walk Around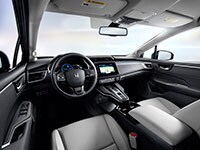 Bulbous proportions, focused on a portly tail, give the Clarity an awkward appearance. Recognizably Honda up front, all three Clarity versions look similar.
In Fuel Cell models, big cylindrical hydrogen tanks behind the back seat demand a rising window line. A black roof helps to conceal that model's bulkiness, but others lack such visual assistance. At its rear, the roof tapers slightly, to improve airflow.
A prominent spoiler on the trunk lid helps to distract from the rounded rear-end lines. The spoiler also helps to disguise the supplementary rear window in the trunk lid.
Interior
Satisfying materials and clear, legible controls convey a handsome, near-luxury feeling within the cabin. Fitted with simulated wood accents, the dashboard is similar to those found in other Honda models.
Only the Plug-In version has seating for five. Others seat only four.
Front seats are comfortable and upright, with helpful bolsters. Rear legroom is ample, but taller adults may face limited head clearance.
Trunk space varies by model. The high-volume Plug-In Hybrid holds 15.5 cubic feet, while the Electric manages 14.3 cubic feet. Only 11.1 cubic feet of space is available in the Fuel Cell model.
Because of the tall tail, over-shoulder views are limited. Visibility using the rearview mirror is better than expected.