2018 Honda Clarity Introduction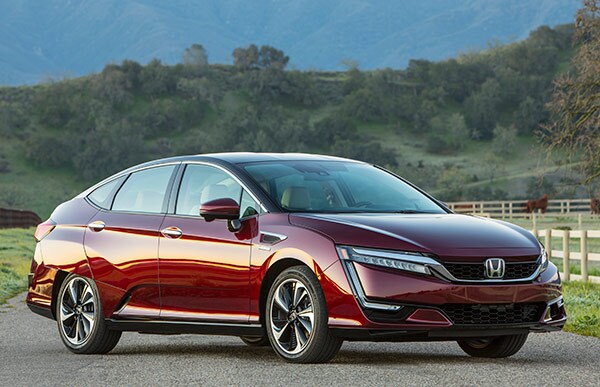 Electricity is the prime propulsion factor in Honda's trio of green, midsize Clarity sedans. A different powertrain goes into each version: Plug-In Hybrid, battery-powered Electric, and a Fuel Cell model that runs on hydrogen.
Honda first produced a hydrogen-powered Clarity years ago, but few went to customers. The company has far higher hopes for the new-generation sedan, though the Fuel Cell edition is again limited by lack of hydrogen fueling stations. Several dozen are scattered around parts of California, the only state where the Clarity Fuel Cell is available.
Electric and Fuel Cell models became available, in small numbers, during 2017. Both yield zero emissions, but their range limits vary considerably. The Clarity Electric is rated to travel only 89 miles before its battery pack needs recharging. Several battery-powered rivals beat that figure.
In stark contrast, the Fuel Cell model is EPA-estimated at 366 miles, about the same as the Plug-In Hybrid.
Joining the lineup for the 2018 model year, the Plug-In Hybrid comes in two trim levels: standard and Touring. Clarity Fuel Cell and Clarity Electric versions each come in a single trim.
Plug-In Hybrid models couple a specially-tuned 1.5-liter four-cylinder gasoline engine with Honda's two-motor hybrid system. Total system output is 212 horsepower. Rated at 146 kilowatts (181 horsepower) and 232 pound-feet of torque, the drive motor can power the car alone at low speeds.
Clarity Electric and Fuel Cell models are powered solely by an electric motor. The hydrogen model is rated at 130 kW (174 hp) and 221 pound-feet of torque, versus 120 kW (161 horsepower) for the Electric edition. The Electric's 25.5-kilowatt-hour battery system includes an auxiliary pack behind the rear seat.
All versions are well-equipped. The Fuel Cell model is offered only as a lease vehicle, at $369 per month. In May 2018, Honda offered a $199 lease for the Clarity Electric.
Neither the National Highway Traffic Safety Administration nor the Insurance Institute for Highway Safety has tested any version of the Clarity. A rearview camera is standard. Honda's LaneWatch system displays a video image of the right-side blind spot.
Electric and Fuel Cell models also include adaptive cruise control, automatic emergency braking, and active lane control. Honda advises that high-pressure hydrogen storage tanks have been extensively crash-tested.