2018 Honda Clarity Driving Impressions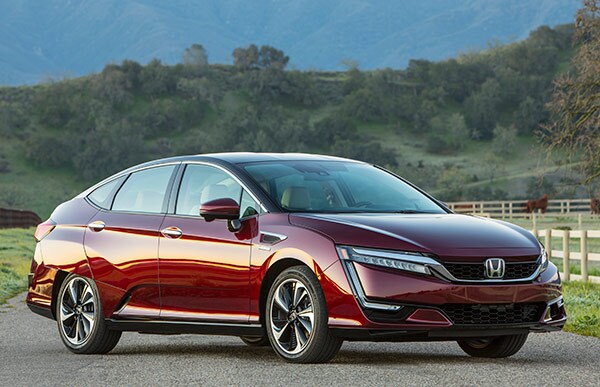 Smooth-riding and quiet, each Clarity benefits from a suspension that reacts nicely to uneven pavement surfaces. Roadholding talent is decent enough, ranking about average for the midsize sedan class. At 17.7 feet, the turning radius is comparatively tight, for easy maneuverability.
Despite its small gasoline engine, the Plug-In Hybrid releases plenty of power, operating smoothly most of the time. When started, the Plug-In runs on battery power alone, until its battery charge is depleted. At that point, it reverts to regular hybrid operation. Battery charge can even be stored for later use. Three modes are available: Normal, Sport, and Eco.
Engine sounds don't necessarily conform to road speed, but with the exception of upgrades, the hybrid powertrain is quiet. The Plug-In's lithium-ion battery pack sits within the trunk. Recharging takes 2.5 hours at a 240-volt outlet.
In the Clarity Fuel Cell model, the fuel-cell stack sits under the hood. Two tanks of highly-compressed hydrogen fit behind the back seat. A small hybrid battery pack can deliver extra boost when needed.
Of the three versions, the Fuel Cell version feels slowest when taking off from a standstill. Both zero-emission models are smooth and blissfully quiet, apart from an occasional electric-drive whine. Even the Plug-In Hybrid is impressively quiet, except when pushed on steep upgrades, making it nearly impossible to discern when the gas engine kicks in.
When running on electricity alone, the Clarity Plug-In Hybrid has a range of 47 miles. Operating as a hybrid, blending gasoline and electric propulsion, it's EPA-rated at 110 MPGe (equivalent miles per gallon), versus 42 mpg (city/highway) using only the gasoline engine.
The Clarity Electric disappoints with a range of only 89 miles, EPA-rated at 114 MPGe (equivalent miles per gallon) in city/highway driving. Range of the Clarity Fuel Cell is EPA-estimated at 365 miles. The only other fuel-cell vehicle sold in the U.S. is Toyota's smaller Mirai.