2018 Honda Civic Introduction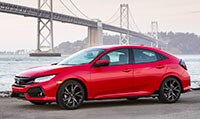 The Honda Civic, which has been zipping around on our streets for 45 years, was totally redesigned for the 2016 model year; the Civic sedan and then the coupe were made longer and wider, nearly as big as a Chrysler 200. The sleek hatchback followed for 2017, including a high-performance Civic Type R with a big wing. So for 2018 there are no changes.
In the upscale models, the compact Civic feels more like a premium car than an economy car. The sedan, especially, is refined and smooth-riding. It's a calm car, not a sporty or especially quick one, with good handling and easy brakes.
The standard 2.0-liter four-cylinder engine makes 158 horsepower, about the same as a Mazda3, but unfortunately it's boring. It comes with either a 6-speed manual transmission that we really like, or a continuously variable transmission (CVT) that isn't new, doesn't have paddle shifters and is even more boring than the engine.
That mostly puts the job to the other engine, a 1.5-liter turbo making 174 horsepower. It's a revelation, not only quicker and more responsive than the non-turbo 2.0, but with a better CVT. It gets nearly the same fuel mileage as the 2.0, which with the CVT is EPA-rated at 35 mpg Combined miles per gallon (only 31 mpg with the manual).
The sportier Civic Si really ups the power with 205 hp, and the Type R, with its 2.0-liter turbo brings 306 horsepower to the VTEC and VTC engine.